Program Notice
Submissions are still welcome. Nominations submitted between May 1, 2019 and April 30, 2020 are under consideration. Thank you for your patience as we update the program and for your dedication to improving school safety!
The Texas School Safety Center's School Safety Spotlight Program is designed to recognize and promote schools, districts, and/or individuals that foster education and learning through safe and secure campuses.
We want to hear what you, your school, district, or colleagues are doing to make a difference in our schools and communities as it relates to safety and security. Recognizing the creativity and diversity of Texas schools, programming, and personnel, the School Safety Spotlight Program has five categories from which nominations can be made.
Categories for Nominations
Collaborative/Community Partnerships

Innovative programs that establish/maintain collaborative, working relationships between your school and a community partner(s). These partnerships go beyond what is required in law, and may influence planning, implementation, response, and/or recovery efforts.
Examples include but are not limited to programs or approaches that ensure schools are included in local and regional emergency plans and offer guidance and assistance to schools in planning, drilling, exercising and with safety audits.

Staff/Faculty Development and Training

Safety and security awareness training programs that raise staff and faculty awareness, and provide additional education than what is already required to have implemented by law.
Examples include but are not limited to subject specific programs that educate and encourage competence in areas such as suicide prevention, bully prevention, access control/intruder assessments, assistance with drills and exercises, community awareness, and an emergency management program that engages everyone in required drills and exercises.

Positive School Climate/Prevention Programs

Programs that are integrative and holistic. These programs recognize a current safety issue in a school, and then go above-and-beyond to address it. These programs involve the school and outside community to go further than legislative requirements and improve overall school climate or prevention.
Examples include but are not limited to Programs that integrate students, parents and teachers to create and maintain a positive school climate by engaging in strategies that include, but are not limited to, the prevention of bullying/cyber bullying, suicide prevention, dating violence, gang involvement, and drug abuse.

Student/Peer-Led Groups and/or Programs

Programs that allow students to take leadership roles in creating and promoting a safe and secure school environment that encourages positive peer interactions.
Examples include but are not limited to mentoring programs, peer-to-peer collaboration, and youth preparedness programs that bring students and adults together to aid communities.

Outstanding Individual Service

Individual who has achieved or made a significant contribution to school safety/security through their personal initiative, commitment, strong advocacy efforts and leadership.
Examples include an individual that provides leadership in safety and security initiatives within the school or community; leader in school safety in times of emergency; or a school teacher, counselor, administrator, law enforcement officer, or other support staff that consistently makes a difference in safety and security and providing a great learning environment.
The Texas School Safety Center will recognize the top scoring submission from each category in our quarterly newsletter, as well as on our social media platforms. Nominations are submitted on a rolling basis, and reviewed quarterly according to the schedule below:
Quarter 1

Submissions between
May 1 - July 31
Reviewed by Aug 15

Quarter 2

Submissions between
Aug 1 - Oct 31
Reviewed by Nov 15

Quarter 3

Submissions between
Nov 1 - Jan 31
Reviewed by Feb 15

Quarter 4

Submissions between
Feb 1 - April 30
Reviewed by May 15
All nominations submitted between May 1, 2019 and April 30, 2020 will be considered for recognition at the TxSSC's Texas School Safety Conference held on June 28, 2020 - July 2, 2020 in San Marcos, TX.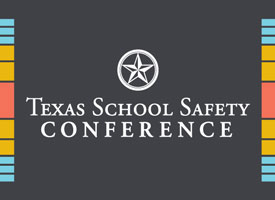 If your nomination is selected, you will be notified following the review date.
Submissions will be reviewed based on the following criteria, and should be clearly addressed in your submission:

Knowledge
Is the program, group, or individual providing a high degree of insight and knowledge about school safety and security issues?
Creativity/Originality
Is the program, group, or individual using unique, innovative approaches to address school safety?
Engagement
To what degree does the program, group, or individual engage and involve students, staff/faculty, and/or community partners in creating a safer environment?
Impact
To what degree does the program, group, or individual influence and shape safety and security measures within the school/district?
Evidence-Based Practices
Does the program, group, or individual use evidence-based practices that can be readily found on a national best practice registry to address safety and security issues? Are assessment and evaluation processes implemented consistently?
To make an online submission through the Texas School Safety Center's School Safety Spotlight Program, please use the submission link below. If you have questions regarding this program, please contact Kimberly Duncan-Ashley at kad120@txstate.edu or (512) 245-5860.