K-12 Standard Response Protocol Toolkit
1.2 Protocol Details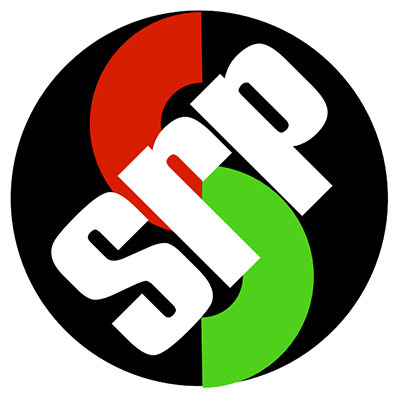 Summary
This section of the guidance defines conditions, actions responsibilities and other aspects of preparing and incorporating The Standard Response Protocol within a school or district safety plan.
Prerequisites

NIMS and ICS
In order to coordinate the use of the SRP in district plans, it is highly recommended that key individuals within the district and those with a role in district/campus emergency operations, complete the following courses through FEMA.
IS 100.SCa - Introduction to the Incident Command System for Schools
IS 700.A - National Incident Management System (NIMS) An Introduction
IS 362.A - Multihazard Emergency Planning for Schools
These courses are available online at http://training.fema.gov. Anticipate 1 to 3 hours per course to successfully achieve certification. The courses are offered at no charge.
(Note: The "I Love U Guys" Foundation is not affiliated with FEMA.)
Creating Time Barriers
Historical data on active shooters suggests that a locked classroom door is a proven life-saving strategy. Barricading is another option that has a positive track record. These strategies all provide a "Time Barrier" between students, assailants.
"Historical data on active shooters suggests that a locked classroom door is a proven life saving strategy."
Doors, Locks, Stress and Fire Marshals
A consistent observation by first responders is that human beings have difficulty completing even routine tasks when they are under stress. The otherwise simple task of locking the classroom door may become extremely difficult for a teacher who has just heard a Lockdown order. Elevated adrenaline levels may result in the loss of fine motor skills and often result in difficulty even inserting a key to lock a door.
Keeping classroom doors locked during instruction has proven to be a time barrier. While this may create an inconvenience if students are late or need to re-enter a classroom for other reasons, it provides an essential layer of protection against intruders.
Talk to the Fire Marshal
It's important to discuss classroom security options and modification with local fire authorities. Variances in local Fire Codes and application may determine if keeping doors locked is an option for your schools. It is also recommended that you discuss fire evacuation drills to ensure local fire code compliance.
Memorandums of Understanding (MOU)
Establishing a Memorandum of Understanding (MOU) and/or Mutual Aid Agreement (MAA) between responding agencies and local resources is critical. It is insufficient to rely on a conversation or handshake between entities to respond to an incident or to provide resources during an emergency.
"Establishing Memorandums of Understanding (MOUs) between stakeholders is critical."
Written agreements such as MOUs and MAAs are important to emergency operation plans and should be reviewed and updated regularly.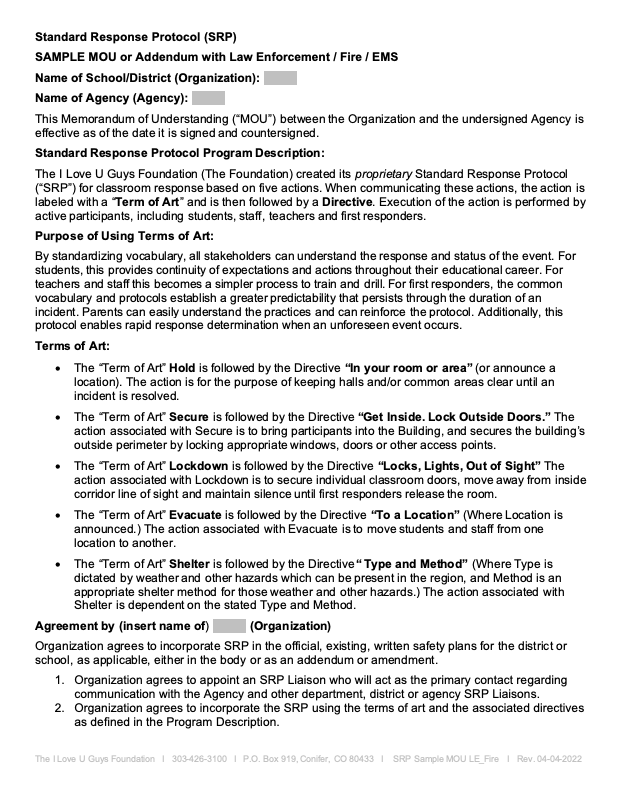 This SRP-focused Sample MOU between a School District and Law Enforcement/Fire/EMS was created by The "I Love U Guys" Foundation in order to guide schools in creating effective MOUs with local first responders. To view, download, and print the sample MOU please click the button below.
Some schools, districts, departments and agencies may also desire a formalized MOU with The "I Love U Guys" Foundation. Sample MOUs are provided in this material for that purpose. The purpose of this MOU is to define responsibilities of each party and provide scope and clarity of expectations. It affirms agreement of stated protocol by schools, districts, departments and agencies. It also confirms the online availability of the Foundation's materials.
An additional benefit for the Foundation is in seeking funding. Some private grantors view the MOU as a demonstration of program effectiveness.
Another option is to formally notify the foundation with a "Notice of Intent."
These are included within this material. At a minimum, schools, districts, departments and agencies that will ultimately incorporate the SRP into their safety plans and practices should email srp@iloveuguys.org and let them know.
Version Update
The SRP K-12 2021 version is currently available to download at https://iloveuguys.org. Although SRP V2 is still valid, The I Love U Guys Foundation recommends updating to the newer version as soon as feasible.