K-12 Standard Response Protocol Toolkit
2.5 Shelter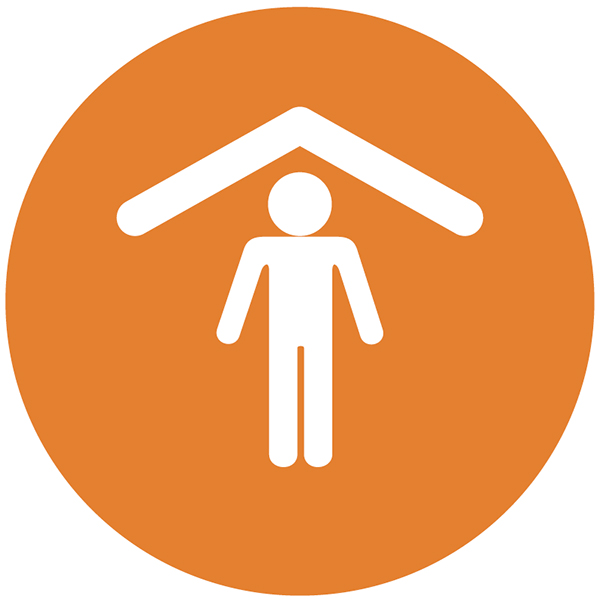 Condition
Shelter is called when specific protective actions are needed based on a threat or hazard. Training should include response to threats such as tornado, earthquake, or hazmat.
Public Address
The public addresses for shelter should include the hazard and the safety strategy. The public address is repeated twice each time the public address is performed.
"The public addresses for shelter should include the hazard and the safety strategy."
Hazards May Include
Tornado
Severe weather
Wildfires
Flooding
Hazmat spill or release
Earthquake
Tsunami
Safety Strategies May Include
Evacuate to shelter area
Seal the room
Drop, cover, and hold
Get to high ground
Actions
The Texas School Safety Center website contains guidance resources for actions associated with severe weather and other threats. Collaboration with local responders, the national weather service, and other local, regional, and state resources should be consulted in developing specific actions for your district response.
Access the Texas School Safety Center's Severe Weather Toolkit by clicking the button below.
Incident Command System
The School Incident Command System should be initiated.
Responsibility
Sheltering requires all students and staff follow response directives. Districts should have procedures for every hazard and threat which include provisions for those individuals with access and functional needs.
Preparation
Identification and marking of facility shelter areas.
Drills
In Texas, Shelter drills must be held twice per school year: once for Shelter-in-Place for Hazmat and once for Shelter in Severe Weather.
Shelter - State the Hazard and Safety Strategy
Using the Shelter directive and stating the hazard, allows for understanding of the threat and the associated protective actions. Most often, a shelter directive is utilized for tornadoes or severe weather, in which case the directive would include where students and staff should shelter and be ready to take a protective posture. Sheltering for a Hazmat spill or release is very different. In the case of a Hazmat situation, students and staff would be directed to close their windows, shut down their heating and air conditioning units, and seal windows and doors to preserve the good inside air while restricting the entry of any contaminated outside air. Listening to specific directives is critical to a successful emergency response.
Plain Language Act
NIMS and ICS require the use of plain language. Codes and specific language that are not readily understood by the general public are no longer to be used. The SRP uses shared, plain, natural language between students, staff, and first responders. This is evident in the directives provided in the SRP. If there are specific directives that need to be issued for a successful response in a school, those should be made clearly using plain language. There is nothing wrong with adding additional directives as to where to shelter, or what protective actions should be used in the response.
Customization
The classroom poster is sufficient for generic Shelter guidance. The Foundation recognizes that localized hazards may need to be added to the poster. Original, digital artwork can be provided to organizations that have signed a "Notice of Intent" or a "Memorandum of Understanding" with the "I Love U Guys" Foundation.
Please note: Currently, original artwork is only provided in Mac OS X, Pages version 4.3 iWork '09. It may be compatible with Pages 6. x for Mac OS X, iOS, or iWork for iCloud beta. Currently, artwork is not available for Microsoft Word. See Appendix A: FAQs.
Public Address Protocol
The public address is repeated twice each time the public address is performed.
The following represents the Public Address for The Standard Response Protocol:
Hold! In your room or area. Clear the halls.
Secure! Get Inside. Lock outside doors.
Lockdown! Locks, Lights, out of sight.
Evacuate! To a Location.
Shelter! For Hazard Using Safety Strategy.
Classroom Posters
Part of a school's commitment to SRP is displaying posters in classrooms, libraries, cafeterias, gymnasiums, auditoriums, and hallways.
The Foundation recognizes that this commitment may impact printing budgets and consequently asks that schools or districts commit to a time frame when poster installation can be completed.
Download and Print Posters by clicking here.
Cell Phones
It is not uncommon for school administrators to ban cell phone use during a lockdown. Parent instincts may be at odds with that ban. Often, one of the first things a parent will do when there is a crisis in the school is text their child.
In evaluating actual lockdown events, the initial crisis may only take minutes. After the threat is mitigated, law enforcement typically clears the school one classroom at a time. This process may take significant time. During this time, both parents and students can reduce stress through text communications.
There is also an opportunity to ask the students to text their parents with crafted messages. For example, "Pick me up at Lincoln Elementary in one hour. Bring your ID."
Training Resources
The Foundation can provide on-site training and has worked with a number of organizations in providing train-the-trainer sessions. Visit the Foundation Website for more information about training.
Program Review
Reviewers of this material are available; contact the Foundation Website.
SRP Review Committee
The SRP is locked at Version 2.2. Substantive changes can now only be made after committee review. Change requests can be emailed to srp_rfc@iloveuguys.org. Please include all of your contact information.