Laws
Laws are necessary but difficult and boring to read! This last section summarizes the State and Federal laws, as well as policies for Texas schools that apply to bullying, harassment, sexting, sextortion, and revenge porn (and impact YOU).
Keep in Mind:
New laws are passed all the time
Ignorance of the law is not a defense
District Attorneys can add charges if evidence warrants. (What's on YOUR phone?)
Most adults don't know about apps to hide files, but POLICE do and can access them
If the picture is sent, opened across state lines, you win a date with the Feds!
Texas State Laws
David's Law22
Texas Lawmakers got SERIOUS about bullying in the lone star state after David Molak, age 16, committed suicide in 2016 in San Antonio, after relentless bullying. Why did David get bullied? He was a nice guy, an Eagle Scout, literally. He loved the outdoors, hunting, fishing with family. The bill passed with a unanimous vote, and in June 2017, Gov. Greg Abbott signed David's Law allowing school districts, police, and prosecutors to fight cyberbullying on multiple fronts, with expanded definitions and tools.
Watch the video below and ask yourself:
Why did this law need to be passed?
Texas Bullying defined:
Consist of all forms of communication (digital, direct, indirect, fake profiles, Photoshop pic's, etc.)
Includes off-campus cyberbullying incidents that affect school environment or any person in school
No longer needs to be a pattern, can be a singular significant act
Schools must have a policy; mandatory anonymous and regular reporting system, and protect staff and students who report bullying
Authorities and parents must be notified; parents of bullies can be prosecuted or sued
Includes criminal harassment, expedited protective orders against bullies and parents
Allows transfer of students to another school when necessary
All counselors will be trained in suicide and bullying/harassment
The Revenge Porn Statute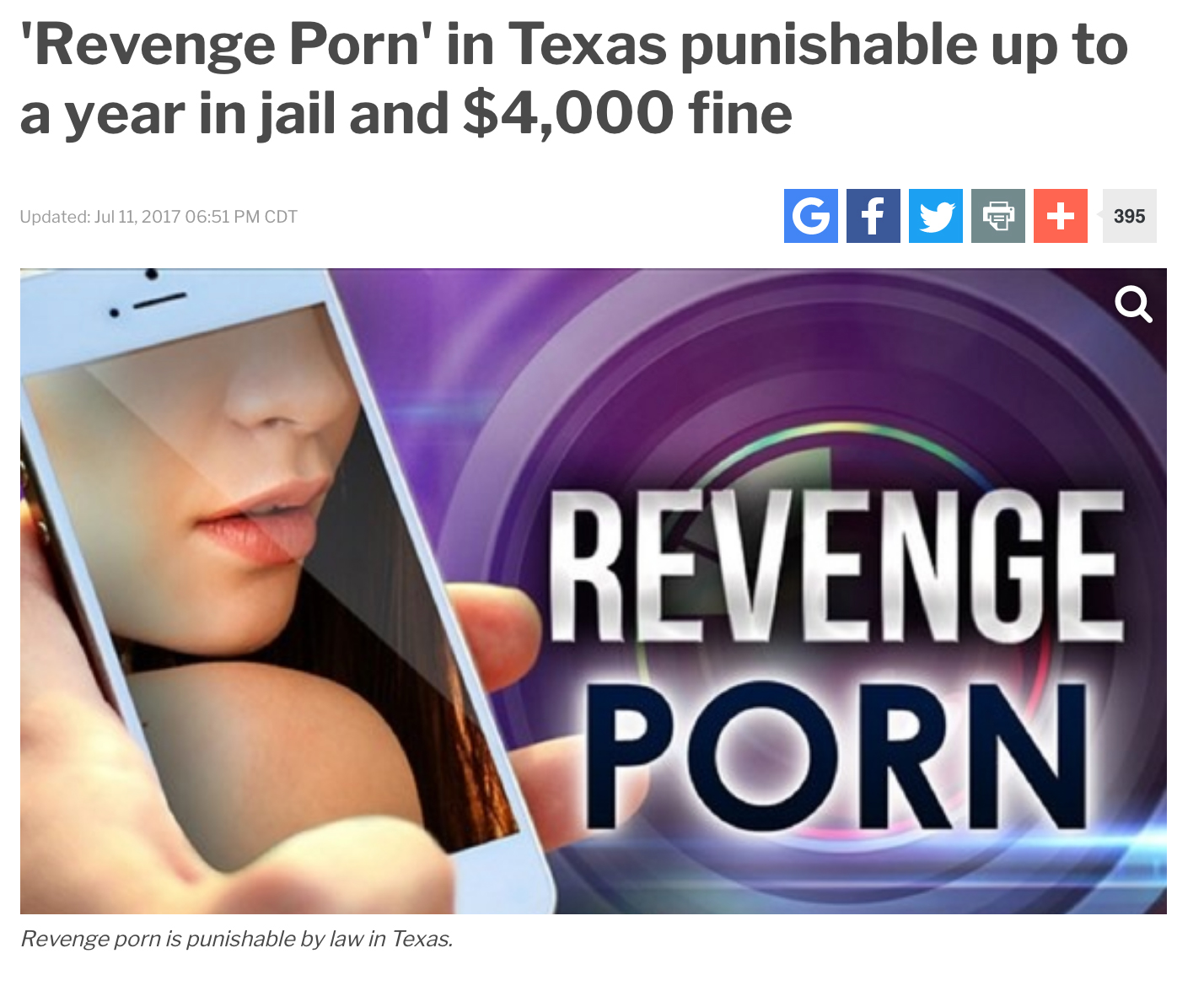 In 2015, the Texas Legislature passed Texas Penal Code Section 21.16,23 the "Revenge Porn Statute." Under this state law, it is illegal and a Class A Misdemeanor for someone to reveal or disclose images of someone engaged in sexual conduct or images of someone's intimate parts unless that person gives their consent when that person had a reasonable expectation that the material would remain private.
Sexting Involving Teenagers: Misdemeanor Crime in Texas
Sexting is a crime in Texas if no adult is involved. Under Texas Penal Code Section 43.261,24 it is a crime for a minor to "intentionally or knowingly" send another minor an obscene pic/vid or a pic/vid of a minor engaging in sexual conduct, if they know it was a minor. First offenders face a Class C Misdemeanor charge; after two or more convictions, the charge changes to a Class A misdemeanor. If convicted of a Class A Misdemeanor, the teen can face up to one year in jail. Texas Penal Code Section 12.21.25
Additionally in Texas, Child Pornography Laws
If an adult is caught sexting with a minor, then he or she can face felony charges based upon child pornography laws (e.g., possession and promotion of child pornography).
You may be thinking, "charges against minors can be expunged from legal records".
True. However, you can never remove that information about you from the web.