Drugs
Alcohol, tobacco, and marijuana are three of the most commonly used drugs among school-age children and teenagers in America. According to the National Risk Behavior Survey (2013), 41 percent of U.S high school students reported that they had smoked a cigarette at least once in their lifetimes.2 Of these, nine percent reported having smoked at least one cigarette every day for the past 30 days.2 The U.S Surgeon General (2014) warns that, "no matter what age a person is, smoking is dangerous to health and can be hard to give up. Nicotine addiction is very powerful and happens quickly." In the United States, more than 3,200 children aged 18 or younger smoke their first cigarette every day.9 However, cigarette use among students has been declining in recent years. On the other hand, e-cigarettes have become more popular. One national survey reports that e-cigarettes have become twice as popular as regular cigarettes among students in 8th and 10th grades.6 The long-term health effects of e-cigarettes are not yet known.6

In addition to cigarettes, drug and alcohol use has been decreasing in recent years.8 Nonetheless, students who experiment with drugs at a young age are at increased risk of developing substance abuse issues as adults. Drug abuse among youth also impedes school safety efforts by decreasing academic performance, increasing the potential for violence, and potentially creating mental health issues.8 It is important to target youth with drug interventions, in order to equip them with the tools they need to make healthy decisions. Research suggests that peer influence plays a great role in determining whether or not students decide to experiment with or use drugs.4, 5, 7 Greater supervision from parents and figures of authority can reduce the likelihood of drug use.4 School and community prevention programs have also been shown to be effective.3 Evidence indicates that interventions that address multiple risk factors, such as antisocial/aggressive behavior, while strengthening protective factors, such as peer and adult support, tend to have the most success.3
Preventing children and teenagers from developing unhealthy habits with nicotine, alcohol, and illicit drugs will not only enhance school health and safety, but will strengthen and improve communities and our society as a whole.
Article
In 2017, The Centers for Disease Control (CDC) released information about the opioid epidemic that has spread across the country. Drug overdoses and opioid-involved deaths have continued to increase among teens and young adults, with teen prescription drug misuse and abuse on the rise for the last two decades. In the United States, many of these overdose and opioid deaths involve the abuse and misuse of prescription drugs. Teens and young adults are also abusing stimulants and depressants alongside opioids. Although schools, communities, and families have prevention and treatment options available to them, dangerous events, such as Pharm Parties, and easy access to pharmaceuticals have led to unintended consequences for teens. This article will highlight the significance of prescription drug misuse and discuss prevention and treatment options to mitigate the opioid epidemic. (Read more…)
Article
Alcohol is the most widely consumed substance by youth and young adults, with many being exposed to alcohol in their formative years. Research has shown that underage alcohol consumption has numerous harmful effects on youth and young adults, ranging from poor school performance to alcohol-related deaths. However, prevention strategies, such as active parental involvement, school-based programs focusing on social influences, and open lines of communication have shown to be effective at reducing underage alcohol use. Additionally, although a mechanism by which peer pressure can be extended, social media messaging can be used for promoting prevention strategies and intervention efforts in regards to underage alcohol use. (Read more…)
Article
Decades of research indicates that tobacco enforcement programs, particularly those focusing on youth access laws, are effective at reducing youth smoking. In contrast, very little evidence supports the notion that merely enacting youth access laws in the absence of proper enforcement support will impact prevalence rates of youth smoking in any way. Dating back to 1997, researchers studied the association between merchant compliance with the law. Current daily smoking was examined, and the results showed that states with a higher average of state merchant compliance predicted lower levels of current daily smoking among adolescents. (Read more…)
Article
During the 2012-2013 school year, one school district in Texas confiscated e-cigarette products on nearly a daily basis. This is one of the many issues schools face as the number of U.S. students who try electronic cigarettes for the first time steadily increases. Approximately 263,000 6-12th grade public and private school students reported trying e-cigarettes in 2013 compared to only 79,000 students in 2011. Of these first-time e-cigarettes users, as many as 43.9% report an intention to smoke conventional cigarettes in the future, according to a publication from the Nicotine & Tobacco Research journal. (Read more…)
Article
Over the past 20 years, teenagers have engaged in illicit drug use at high rates. This is largely due to the prevalence of marijuana use. Although marijuana use among teenagers declined beginning in the late 1990s, it has been increasing since the mid-2000s. According to the 2012 Monitoring the Future National Drug Use Survey, 6.5 percent of 8th graders, 17.0 percent of 10th graders, and 22.9 percent of 12th graders used marijuana in the past month. This represents an increase from 14.2 percent of 10th graders and 18.8 percent of 12th graders in 2007. Daily use has also increased with 6.5 percent of 12th graders using marijuana daily.(Read more…)
Article
Each day, approximately 3,800 youth in the United States try a cigarette for the first time. Of these youth, an estimated 1,000 will become daily smokers (Substance Abuse and Mental Health Services
 Administration, 2011). The peak age for trying
cigarettes for the first time is between the ages of 11 and 13 years old (Johnston, O'Malley, Bachman, & Schulenberg, 2012b). Further, the U.S. Surgeon General reported that 88% of daily adult smokers used their first cigarette by the age of 18 and 99% before the age of 26 (U.S. Department of Health and Human Services, 2012). Based on these statistics, the Surgeon General concluded that an estimated 80% of youth who currently smoke will continue to smoke into adult hood due to the addicting effects of nicotine (U.S. Department of Health and Human Services, 2012). Overall, more than 3.6 million youth under the age of 18 are current daily smokers (Centers for Disease Control and Prevention, 2011). (Read more…)
Infographic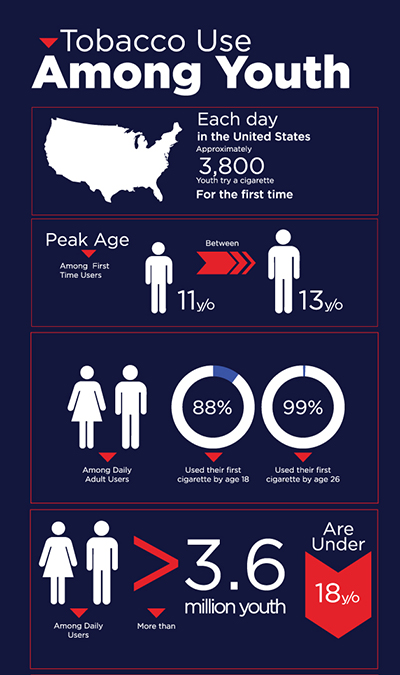 Each day, approximately 3,800 youth in the United States try a cigarette for the first time. Of these youth, an estimated 1,000 will become daily smokers. Cigarette smoking not only causes bad breath, increased heartbeat, high blood pressure, and irritated eyes and throat, but also more serious health effects such as respiratory problems, gum disease, heart disease, stroke, various cancers, cardiovascular disease, and potentially death. This infographic demonstrates some of the current statistics concerning tobacco use among youth.
References
1 Cavazos-Rehg, P. A., Krauss, M. J., Spitznagel, E. L., Grucza, R. A., & Bierut, L. J . (2014). Youth tobacco use type and associations with substance use disorders. Addiction, 109(8), 1371-1380. doi: 10.1111/add.12567
2 Centers for Disease Control and Prevention. (2013). Tobacco Use and United States Students. Retrieved from www.cdc.gov/healthyyouth/data/yrbs/pdf/us_tobacco_combo.pdf
3 Chakravarthy, B., Shah, S., & Lotipour, S. (2013). Adolescent drug abuse: Awareness & prevention. Indian Journal of Medical Research, 137(6), 1021-1023.
4 Forster, M., Grigsby, T. J., Bunyan, A., Unger, J. B., & Valente, T. W. (2015). The protective role of school friendship ties for substance use and aggressive behaviors among middle school students. Journal of School Health, 85(2), 82-89. doi: 10.1111/josh.12230
5 Green, R., Mitchell, P., & Bruun, A. (2013). Bonds and bridges: Perspectives of service-engaged young people on the value of relationships in addressing alcohol and other drug issues. Journal of Youth Studies, 16(4), 421-440. doi: 10.1080/13676261.2012.718433
6 Johnston, L. D., O'Malley, P. M., Miech, R. A., Bachman, J. G., & Schulenberg, J. E. (2014). Overview: Key Findings on Adolescent Drug Use. Monitoring the Future: National Survey Results on Drug Use, 1975-2014. Retrieved from www.monitoringthefuture.org/pubs/monographs/mtf-overview2014.pdf
7 King, K. A., Vidourek, R. A., Merianos, A. L. (2013). Psychosocial factors associated with over-the-counter drug abuse among youth. American Journal of Health Studies, 28(2), 68-76.
8 National Institute on Drug Abuse. (2014). DrugFacts: High School and Youth Trends. Retrieved from www.drugabuse.gov/publications/drugfacts/high-school-youth-trends
9 Surgeon General's Report on Smoking & Health. (2014). Smoking and Youth. Retrieved from www.cdc.gov/tobacco/data_statistics/sgr/50th-anniversary/pdfs/fs_smoking_youth_508.pdf