Severe Weather Toolkit
1.5 Hurricanes and Tropical Storms
Hurricanes and tropical storms typically occur between June 1st and November 30th. Because of advance warnings and predictions, schools are generally not in session during hurricanes. However, schools are an essential part of prevention, mitigation, preparedness, response, and recovery from hurricanes and tropical storms.
A hurricane watch means a hurricane has become a threat to coastal areas. Residents and businesses in those areas should monitor the situation and be prepared to take precautionary protective actions promptly when a hurricane warning is issued.
A hurricane warning indicates that hurricane-force winds, dangerously high water, and rough seas are expected in a specific coastal area within 24 hours and protective actions should begin immediately. A hurricane's intensity, speed, and direction can change rapidly and therefore the threat to particular areas of the coast may also change quickly. It is essential that individuals in coastal areas of Texas regularly monitor radio, television or other news sources for information and instructions whenever a hurricane occurs in the Gulf of Mexico.
Hurricanes are categorized by the National Weather Service (NWS) based on their intensity by using a scale of one to five. The scale, which is outlined below, categorizes storms according to their sustained winds, the storm surges produced and the damage expected as a result.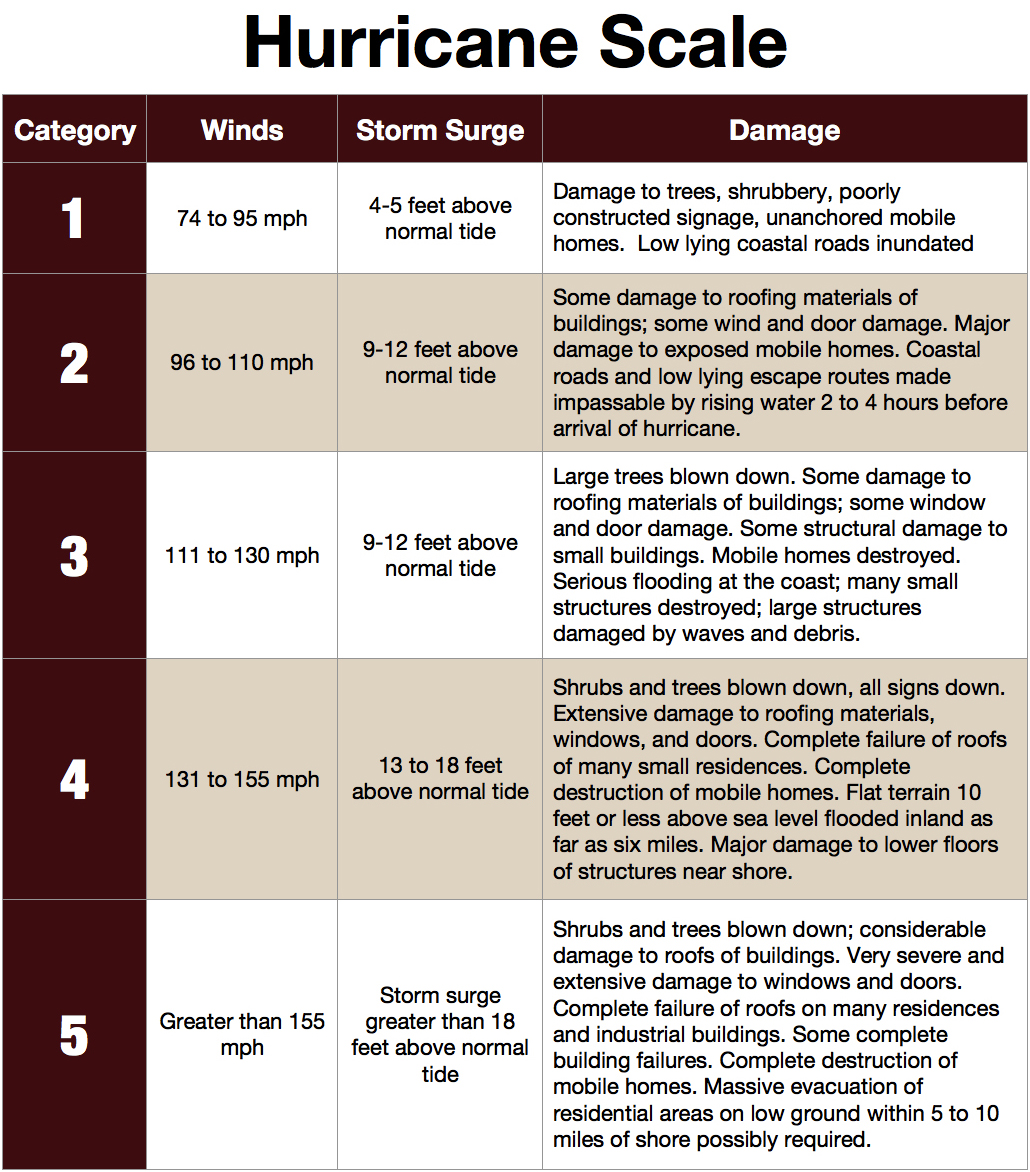 (Click above image to download chart as a .pdf)
Understanding Vulnerability
Understanding the geographical location of the community and the school facility's infrastructure is essential to understanding vulnerability to the effects of hurricanes. With communities and schools located near the coast, elevation is a major factor that determines how storm surges and floods may affect the area. Elevation information can be obtained from property site plans, city building officials and city or county floodplain administrators.
It is imperative that schools work with their local partners to determine their risk and possible protective actions. In addition to understanding elevation, it is important to know the condition of school buildings and their ability to withstand hurricane force winds and waves. An engineer can help determine the school's structural integrity. If the building and foundation are not structurally able to withstand severe wind and water, then the facility should be evacuated completely during a hurricane—it is probably not safe for anyone to remain in the facility.1
Pre-planning for Hurricanes
Hurricanes can pose a significant threat to life and property. Fortunately, officials generally provide notice to the public days in advance that a hurricane is developing and where it is projected to make landfall. According to the Texas Division of Emergency Management (TDEM), the most obvious threat posed to buildings, equipment and individuals associated with a hurricane is high winds and storm surge. A storm surge may rise twenty feet or more in large hurricanes. Waves can come ashore with great force and may push many miles inland. Additionally, hurricanes typically produce large amounts of heavy rainfall resulting in flooding, and can even spawn deadly tornadoes.
An impending hurricane can be volatile. Therefore, the threat to specific coastal areas may change quickly as well. It is essential in coastal areas of Texas to regularly monitor local news for information and instructions whenever a hurricane is projected in the Gulf of Mexico, and to take appropriate protective actions and preparations well in advance. Making advance preparations is recommended as crucial supplies can become scarce during a severe weather event. It is usually advisable to consider closing school and evacuating the area before the roads become impassable.
General Hurricane Preparedness Guidelines
Staff
Determine which staff members (maintenance, custodial, transportation, etc.) will be needed to prepare the facilities and the equipment that will be needed
Determine the most appropriate and necessary tasks to complete
Assign tasks to team members to complete (boarding up/securing windows, fueling district vehicles, securing or removing exterior equipment, charging hand-held radios, stocking basic supplies, communicating with stakeholders, shutting off utilities, etc.)
Identify hard copies of student and business records that need to be removed from the facility during an event when a complete evacuation is ordered. Back-up electronic data
Relocate furnishings and expensive equipment
Equipment and Supplies
The following equipment and supplies should be prepared:
Battery-operated hand-held radios—charged and ready
Battery-operated weather radio with extra batteries
Flashlights with extra batteries
Portable generator and heavy duty extension cords
Bottled water and ready-to-eat non-perishable food for those who will be preparing facilities
Raingear and work gloves
Brooms, mops, squeegees, and absorbents to remove water
Hand tools, plywood, bracing materials, tape, etc.
Sandbags and sand
Hurricane Recovery
If the school and/or area was evacuated as the result of a hurricane, re-entry may be difficult due to closed roads, debris strewn streets, power failures or flooding in low lying areas. Additionally, local authorities may prohibit reentry until the area is deemed safe. Schools should collaborate with local authorities before an event to understand criteria for re-entry into the area. Communication with staff and stakeholders is essential to begin recovery and continuity of operations.
Once it is safe to return to the facility, staff should:
Check the facilities for obvious structural damage to the buildings and foundations.
Staff should not attempt to enter the affected building. if significant structural damage is present.
Check for downed or dangling electrical power lines and broken sewer or water pipes. Staff should stay away from damaged power lines and broken sewer lines, and report these issues to the school's local utility providers.
Do not take lanterns, torches, or any kind of open flame into a damaged building – there may be leaking gas or other flammable materials present.
Make sure the electrical outlets and appliances throughout the facility are dry and free of water before turning the power back on. If there is any doubt about the condition of wiring or appliances, have an electrician check them to make sure there are no short circuits.
Secure the site. Looting of damaged facilities is possible.
General Safety Precautions
Do not drink water from the water system until local officials advise that it is safe from contamination. Use emergency water supplies or boil tap water before drinking it.
Take extra precautions to prevent fire, because inoperative water systems, low water pressure, and the disruption of other services may make firefighting extremely difficult.
Guard against spoiled food. Food in refrigerators can spoil if power is off only a few hours. Freezers will keep food safe to eat for several days if the freezer door is not opened after the power goes off. Do not refreeze food once it begins to thaw.
Wear sturdy shoes when walking through debris and use gloves when moving it.
Be aware that snakes, poisonous insects, and other animals instinctively move to higher ground to escape flood waters and make take refuge inside these facilities.
Recovery Activity
Report damage to the school's property and casualty insurance carrier promptly.
If the school is building is uninhabitable, prepare to implement the school's continuity of operations plan.
Document damage to the facilities and contents with photographs or video.
Do not make extensive repairs until a claims adjuster inspects the damage. However, expedient repairs to prevent more damage or looting may be appropriate. For example, cover broken windows and holes in the roof or walls to prevent further weather damage.
If possible, a school official should be present when the insurance adjuster inspects the property.
Hurricane and Tropical Storm Resources
References
1 Hurricane Preparedness Planning for Business, Texas Division of Emergency Management