Training, Drilling, and Exercising Toolkit
4.1 Conducting an After-Action Review
The After-Action Review (AAR) process should be implemented following an exercise, drill, actual emergency incident, or planned event that utilizes processes and protocols of the multi-hazard emergency operations plan. Once all feedback and evaluator documentation is collected, the data should be reviewed and organized to facilitate effective improvement efforts.
As exercises increase in scope and detail, so does the AAR process. A functional exercise may lend itself to a less formal AAR process. In this case, the review may occur within a short time following the exercise or several days later. In that case, having the participants attend a larger meeting and capturing their feedback may be possible at that meeting. Full scale exercises or more complex functional exercises may necessitate issuing AAR forms as a method of consistently capturing feedback based on the exercise objectives and observations. In this case, forms should be distributed to participants for completion and submit their feedback to a person or team to assemble the feedback for the AAR itself.
During the after-action meeting, participants should reach consensus on strengths and areas for improvement and create an Implementation Plan (IP). Additionally, specific deadlines and assignment responsibilities for implementation of documented corrective actions should be finalized. The progress of such corrective actions should be tracked, documented, and reported on until completion.
Typical AAR questions discussed during the meeting include the following: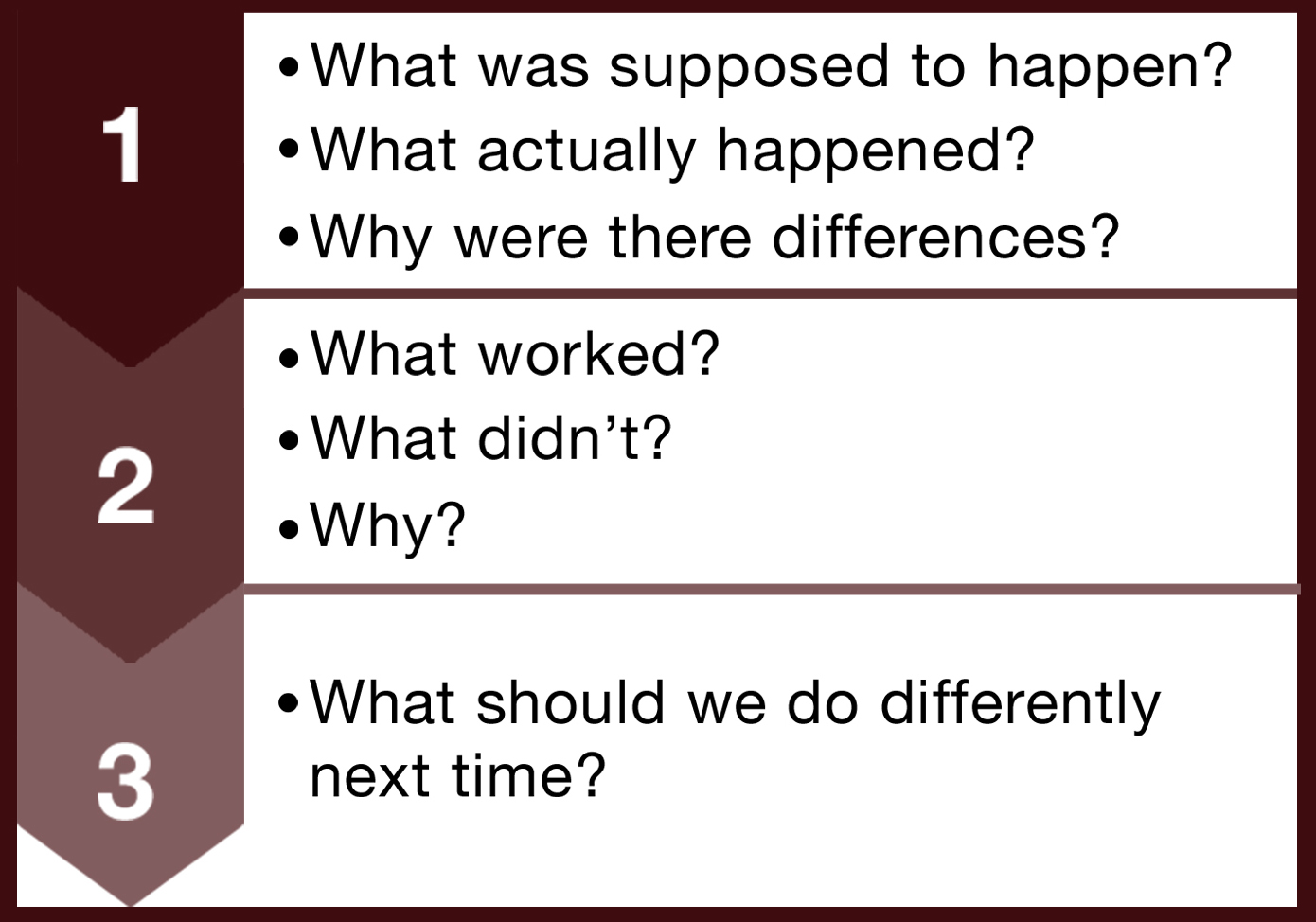 Lessons learned, improvement plans, new prioritization and updates should be made to the district's EOP and campus emergency plans and procedures from the information created by the AAR. Sharing these results with other campuses, district leadership, responders and other stakeholders can facilitate idea sharing and improved emergency planning efforts for all campuses and facilities. As a key step in the Preparedness Cycle, the AAR should be implemented each time after plans are tested via drills, exercises, and/or actual incidents, resulting in ongoing improvement.
There is no required AAR document format. The AAR sample and template listed below may be used and/or revised to meet your district's unique needs.