School Pipeline Safety Toolkit
2.0 Protecting Pipelines and Schools
Government and industry statistics show that improper or unauthorized digging near a pipeline is the most common cause of pipeline damage. The Damage Information Reporting Tool reveals that Texas is in the leading region (West South Central) for pipeline damages across the U.S. The over 55,035 damage events reported in this region in 2014, suggests that pipelines may be at elevated damage risk due to local dynamics such as population and economic growth and increase in construction spending.
Damage Information Reporting Tool (DIRT)
6 Action Items to Protect Pipelines and Your School
Maintain a heightened sense of vigilance in identifying risks to nearby pipelines including unmarked digging activity or environmental changes and alert the pipeline company or law enforcement to prevent a pipeline emergency on behalf of student safety.
Require that excavators working on your school grounds, including landscapers, call 811 at least 48 hours before digging as required by Texas state law. Temporary markings including yellow flags, paint or stakes will be placed to identify the location of the pipeline and provide instructions to excavators regarding how and where to safely dig to protect the pipeline.
Report any pipeline damage, including scrapes, dents or exposed areas of pipe so that the damage can be inspected and repaired as needed. If you notice a damaged or missing pipeline marker, notify the pipeline operator so that it can be replaced.
Teach staff about the signs of a potential pipeline leak and the location of any pipelines near your school. Review pipeline emergency response procedures included in your safety plan.
If a pipeline easement exists on your school property, review the details of your agreement and talk with the pipeline operator before planting, digging or building near the right-of-way. Easement agreements vary, but the pipeline right-of-way usually includes the land above and approximately 25 feet on either side of a pipeline.
If there is a pipeline near your school it is likely that some of your students live near the pipeline. In some cases pipelines can be located near a school and adjacent residential community. As an extended effort to help protect the pipeline from digging damage, keep your community safe, and help prevent a pipeline emergency, you can share the damage prevention and 811 message with your students and families. Print and copy the bilingual version of the "Call 811 Before You Dig" Flyer and distribute it as a take-home resource.
Know What's Below. Call Before You Dig.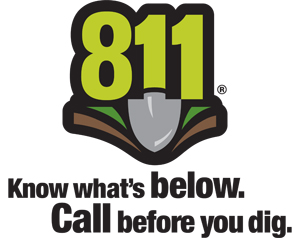 (Click above image to download as .jpg)
School officials can also help protect pipelines by being aware of the 811 call process and enforcing 811 requirements on and near school property. Pipeline operators are members of a nationwide system of 811 call centers. When you call 811, a free service, a local 811 call center representative will notify pipeline operators regarding your anticipated excavation project. Operators will come out to locate and mark their lines for safety at no cost to you. When you call 811 in Texas, be sure to allow 48 hours for the process to be completed. Once lines are located, respect the marks and dig with care.
Industry Safeguards and Regulation
Pipelines in Texas are governed by federal and state agencies: The U.S. Department of Transportations' Pipeline and Hazardous Materials Safety Administration, the federal regulatory body, and the Texas Railroad Commission, the state regulatory body. Each work together for the common goal of protecting people and the environment by advancing the safe transportation of energy and other hazardous materials that are essential to our daily lives. These governmental agencies ensure that pipeline regulations are properly followed and enforced, resulting in greater public and environmental safety. Operators use a combination of measures to protect our nation's pipeline infrastructure. Pipeline companies remotely monitor their operations 24-hours per day, every day, from control centers. Additionally, operators routinely inspect their pipelines by using a variety of methods, including in-person examinations, internal inspection devices and aerial patrols. Cathodic protection, which helps protect pipelines from corrosion, is also used.
Pipeline and Hazardous Materials Safety Administration (PHMSA)