School Pipeline Safety Toolkit
3.0 Finding Pipelines Near Your School
Finding pipelines near your school can help you quickly respond to a pipeline problem and protect students, staff, and facilities.
Permanent Pipeline Markers.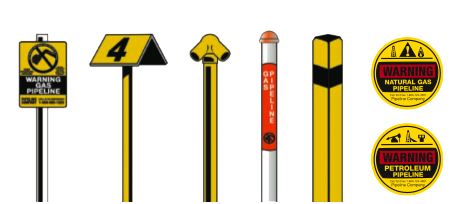 Pipeline operators place permanent signs, called pipeline markers, along pipeline routes, at roadway and railway crossings and at aboveground facilities to identify the general location of a pipeline. Markers can vary in size, shape and color, but all markers include important information about the pipeline, including the product transported, the pipeline operator's name and the operator's emergency contact number. Pipeline markers do not indicate depth of the line, the number of lines in the area or the exact location of a pipeline.
If you are planning an excavation, no matter how big or small the project, even if you have identified a pipeline marker, you must call 811 to have pipelines located and marked before digging. Pipeline markers are important safety signs. It is a federal crime to willfully deface, damage, remove or destroy a pipeline marker. If you notice a damaged marker, please contact the pipeline operator.
Online Pipeline Mapping Tools
National Pipeline Mapping System Public Map Viewer
The federal government provides online maps to help you locate pipelines in your community through the National Pipeline Mapping System (NPMS). Maps generated by NPMS show the approximate location of gas and hazardous liquids transmission pipelines (only) in relation to specific addresses, major roads, zip codes, cities and counties. NPMS also provides non-emergency contact information for transmission pipeline operators in your community.
National Pipeline Mapping System
Texas Railroad Commission Public GIS Viewer
The Texas Railroad Commission Public GIS Viewer allows users to view oil, gas and pipeline data in a map view. This mapping tool includes many types of pipelines including gathering, transmission and distribution lines as well as a multitude of oil and gas related above ground and below ground facilitates.
**Please note that online mapping tools or other forms of identifying nearby pipelines are no substitute for calling 811 before digging. Don't rely on one source of pipeline location information as conclusive.
Aboveground Facilities
In addition to underground pipelines, your school may be located near aboveground components of the pipeline system, including compressor and pumping stations, metering stations and storage facilities. Pipeline markers are posted to identify aboveground facilities as well. Metering stations and compressor and pumping stations are located along gathering and transmission lines. Metering stations measure flow of product in and out of the pipeline system, and compression and pumping stations push products through the pipeline. Storage facilities store natural gas or other products. If you have questions about an aboveground facility near your school, contact the operator listed on the pipeline marker for more information.