High-Quality Multi-Hazard Emergency Operations Plan (EOP) Toolkit
6.2 Exercises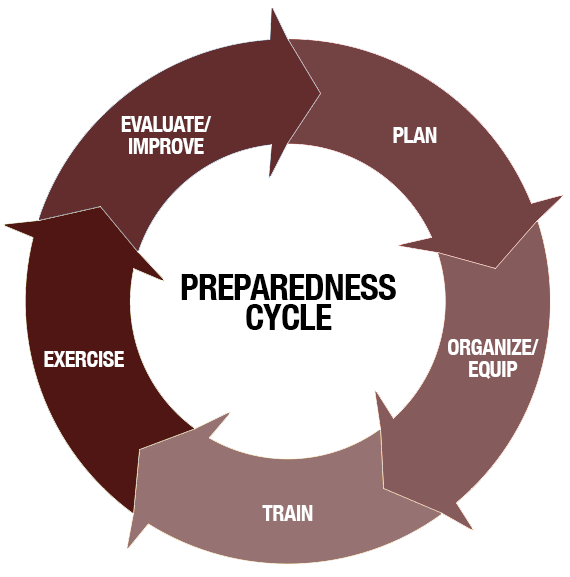 Exercises allow administrators, staff, substitute teachers, students, response agencies, and the community to familiarize themselves with the EOP. An exercise program is part of the preparedness cycle. The preparedness cycle illustrates how plans are continuously evaluated and updated. Coordination of exercises with local emergency response agencies and stakeholders leads to effective and efficient management of actual emergencies.
Discussion-Based Exercises
Discussion-based exercises provide a forum for discussing or developing plans, agreements, training, and procedures. This type of exercise is substantially less complicated than operations-based exercises and involves a focus on strategic, policy-based issues. Discussion-based exercises do not involve the deployment of resources. Discussion-based exercises include:
Seminars
Workshops
Tabletop Exercises
Games
Seminars generally orient participants to, or provide an overview of, authorities, strategies, plans, policies, procedures, protocols, resources, concepts, and ideas. As a discussion-based exercise, seminars can be valuable for entities that are developing or making major changes to existing plans or procedures. Seminars can be similarly helpful when attempting to gain awareness of, or assess, the capabilities of interagency or inter-jurisdictional operations.
Workshops entail the broadest attendance by relevant stakeholders. Products produced from a workshop can include new standard operating procedures, emergency operation plans, continuity of operations plans, and mutual aid agreements. To be effective, workshops should focus on a specific issue, and the desired objective, product, or goal must be clearly defined.
Tabletop Exercises (TTX) are typically held in an informal setting intended to generate discussion of various issues regarding a hypothetical, simulated emergency. TTXs can be used to enhance general awareness, validate plans and procedures, rehearse concepts, and/or assess the types of systems needed to guide the prevention of, protection from, mitigation of, response to, and recovery from a defined incident. Generally, TTXs are aimed at facilitating conceptual understanding, identifying strengths and areas for improvement, and/or achieving changes in attitudes.
Games are a simulation of operations that often involves two or more teams, usually in a competitive environment, using rules, data, and procedures designed to depict an actual or hypothetical situation. Games explore the consequences of player decisions and actions and are therefore excellent tools to use when validating or reinforcing plans and procedures or evaluating resource requirements.
Operations-Based Exercises
Operations-based exercises involve the actual deployment or use of resources. These exercises are typically more complex than discussion-based exercises and focus on action-oriented activities that validate plans, policies, agreements, and procedures. Operations-based exercises also assist the district in clarifying roles and responsibilities and identifying resource gaps. Operations-based exercises include:
Drills
Functional Exercises
Full-Scale Exercises
Drills are a set of procedures that test a single, specific operation or function. Drills are commonly used to provide training on new equipment, develop or validate new policies or procedures, or practice and maintain current skills.
Functional Exercises (FE) are designed to validate and evaluate capabilities, multiple functions and/or sub-functions, or interdependent groups of functions. FEs are typically focused on exercising plans, policies, procedures, and staff members involved in management, direction, command, and control functions. In FEs, events are projected through an exercise scenario with event updates that drive activity at the management level. An FE is conducted in a realistic, real-time environment; however, movement of personnel and equipment is usually simulated.
Full-Scale Exercises (FSE) are typically the most complex and resource-intensive type of exercise. They involve multiple agencies, organizations, and jurisdictions and validate many facets of preparedness. FSEs often include many players operating under cooperative systems such as the Incident Command System or Unified Command.
The FEMA IS-120.c An Introduction to Exercises self-paced course provides a detailed overview of the different types of exercises and describes how effective training and exercise programs are established using the Homeland Security Exercise and Evaluation Program (HSEEP) as a national standard for validating plans, policies, procedures, and agreements.
Evaluating the functions tested in an exercise is a major component of a successful exercise program. While some districts choose to utilize local or grant funds to acquire the services of contractors or consultants to design and evaluate, it is possible to conduct an exercise of equal quality at the local level.
An excellent source of training for district personnel who may be selected to evaluate functions or capabilities during an exercise is the FEMA IS-130.a How to be an Exercise Evaluator course. This course provides an in-depth look at the roles, responsibilities, and best practices relating to the exercise evaluator and provides numerous tools to assist the individual in successfully evaluating exercises of all types.
For more information on training, drills, exercises including requirements and best practices for Texas schools, the TxSSC has created a separate toolkit linked below. This toolkit also includes mechanisms to evaluate drills and exercises and job-aids to support the development of a district training and exercise program for emergency management. (Note: The link below will open in a new tab.)