High-Quality Emergency Operations Planning (EOP)
6.2 Drills and Exercises
Drills and exercises allow administrators, staff and students to better prevent, mitigate, prepare for and recover from a variety of incidents. Conducting drills strengthens schools as learning organizations by empowering and creating a culture of preparedness.
A high-quality school drill and exercise program is developed using a comprehensive and progressive style. A comprehensive and progressive drill and exercise program is built around the Preparedness Cycle, including planning, organizing/equipping, training, exercising and continuous evaluation and improvement of the emergency plans.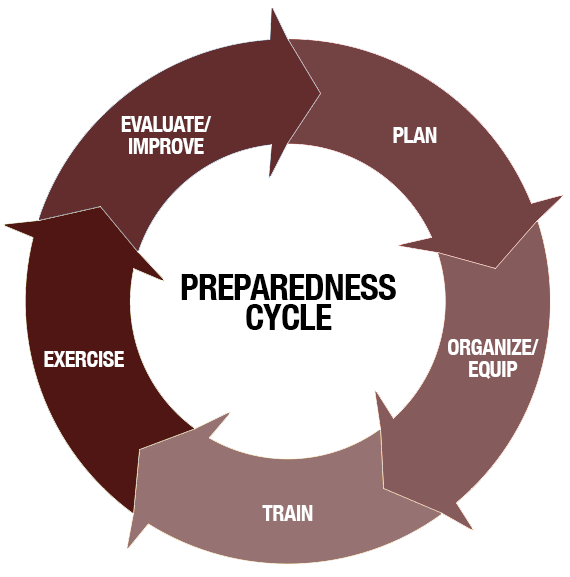 Coordination of drills and exercises with local emergency response agencies and stakeholders enhances interoperability. Confidence gained through collaborative planning and participation leads to effective and efficient management of actual emergencies.
What are emergency drills and exercises?
Drills and exercises are a set of tools to help district/campus administrators ensure that plans and procedures are tailored to the unique needs of students and staff and to the hazards to which the campus most likely is exposed. Drills are intended to practice and refine a single emergency response, such as evacuating for fire or locking down from a threat. Each drill concentrates on a single function in order to strengthen skills and identify areas where improvements are needed.
An exercise is an event designed to practice and test procedures, which may be used in an actual emergency, to improve performance and identify deficiencies. Examples of exercises include tabletop, functional, and full-scale events. When a drill or exercise is used to prepare staff in emergency response as a part of the district's overall preparedness plans, the following should be considered:
The drill or exercise is testing plans already in place.
The goal is to prove capabilities and resources are present for that part of the plan.
If collaboratively planned, the drill or exercise practices coordination between all responding agencies and groups.
A high-quality drill or exercise outcome requires staff to function at the capacity level expected of them during a real event.
What are the different types of drills and exercises?
Drills and exercises are typically defined by the activities utilized when the drill or exercise is conducted. Discussion-based exercises provide a forum for discussing or developing plans, agreements, training, and procedures. This type of exercise is substantially less complicated than operations-based exercises and involves a focus on strategic, policy-based issues. Discussion-based exercises do not involve the deployment of resources. There are four types of discussion-based exercises that districts may use to validate their planning process and resulting EOP:
Seminar – This type of exercise is conducted in a casual atmosphere within minimal time constraints. Using a lecture-based approach (think training), participants are oriented to strategies, plans, policies, and procedures. Seminars are valuable when the district is developing a new EOP or making changes to an existing EOP.
Workshop – Designed to obtain a consensus and share information, workshops are more structured than seminars. This type of exercise leans heavily on participants and stakeholder discussion and utilizes break-out sessions to produce effective plans, procedures, and agreements.
Tabletop Exercise (TTX) – Tabletop exercises are the most involved and complex of the discussion-based exercises. This type of exercise enhances general awareness and validated plans and procedures by allowing participants to solve problems together through detailed discussion of roles, responsibilities, and anticipated courses of action. Tabletop exercises leverage a defined scenario to direct discussion and, therefore, require an experienced facilitator.
Game – This type of exercise explores decision-making processes and the consequences of decisions using a "what-if" analysis of existing plans. Games are designed to evaluate existing and potential strategies by utilizing simulations that increase in complexity. These simulations may include pre-scripted messages or models and commonly involve two or more teams working concurrently to determine the most appropriate course of action for a given scenario. As with all other discussion-based exercises, no actual resources are utilized or deployed.
Operations-based exercises involve the actual deployment or use of resources. These exercises are typically more complex than discussion-based exercises and focus on action-oriented activities that validate plans, policies, agreements, and procedures. Operations-based exercises also assist the district in clarifying roles and responsibilities and identifying resource gaps. Three types of operations-based exercises exist:
Drill – This type of exercise provides immediate feedback on actions conducted in response to a given scenario. Due to the realistic but isolated environment in which drills are conducted, this type of exercise is commonly limited to validating a specific function or capability. Drills are commonly used to provide training on tasks specific to equipment or procedures or to maintain current skills.
Functional Exercise (FE) – This type of exercise is conducted in a realistic, real-time simulated environment and utilizes simulators (individuals that assist with the facilitation of the exercise) and a master scenario events list that dictates additional information, occurrences, or activities that affect the exercise scenario. Functional exercises are designed to validate multiple functions and the various courses of action of each evaluated function. Additionally, FEs are typically focused on exercises plans, policies, procedures, and staff members involved in the management, direct, command, and control functions of response.
Full-Scale Exercise (FSE) – Full-scale exercises are conducted in a similar manner to functional exercises but involve placing all participants in a high stress environment that demands rapid problem solving and continuous critical thinking skills. These types of exercise are designed to test coordinated responses to significant incidents, and therefore are the most complex, resource-intensive, and potentially expensive exercises.
The FEMA IS-120.c An Introduction to Exercises self-paced course provides a detailed overview of the different types of exercises and describes how effective training and exercise programs are established using the Homeland Security Exercise and Evaluation Program (HSEEP) as a national standard for validating plans, policies, procedures, and agreements.
Evaluating the functions tested in an exercise is a major component of a successful exercise program. While some districts choose to utilize local or grant funds to acquire the services of contractors or consultants to design and evaluate, it is very possible to conduct an exercise of equal quality at the local level.
FEMA's IS-130.a How to be an Exercise Evaluator course is an excellent source of training for district personnel who may be selected to evaluate functions or capabilities during an exercise.
What drills and exercises are required for Texas schools?
Texas Education Agency Government Code 61.1036 Section 3F states that school district facilities must comply with the state Fire Marshal's mandatory school fire exit drills. Specifically, this requires that campuses conduct at least one fire drill each month that has 10 or more instructional days. This includes summer school programs, as well.
While this is the only legislatively-mandated drill written into current law, the following drills and exercises are recommended for Texas schools: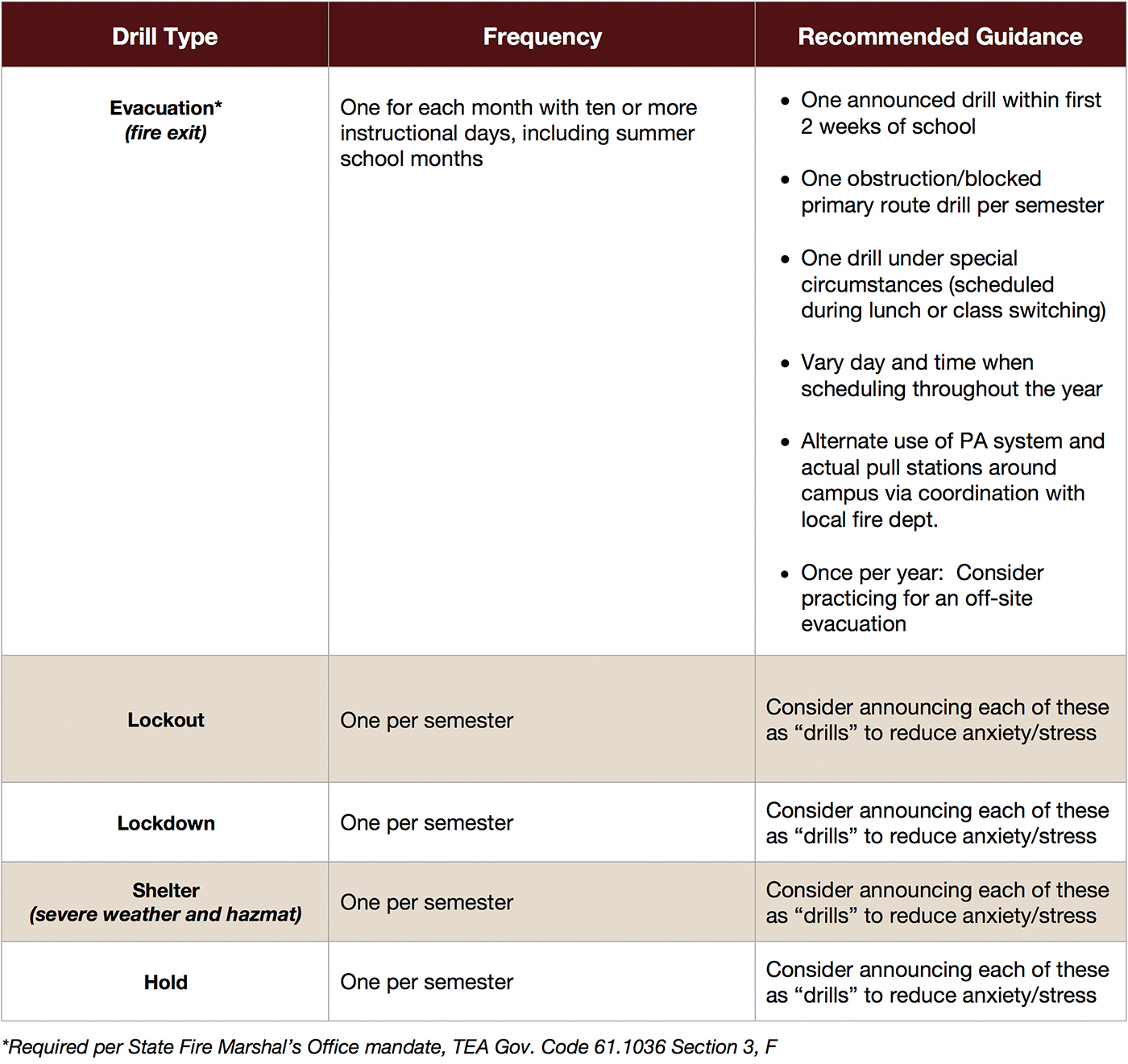 Where can I find out more information on training, drills, and exercises in Texas Schools?
The Texas School Safety Center has created a toolkit focused on training, drills, and exercises which provides requirements and best practices for Texas schools. The toolkit also includes mechanisms to evaluate drills and exercises and job-aids to support the development of a district training and exercise program for emergency management.