High-Quality Multi-Hazard Emergency Operations Plan (EOP) Toolkit
4.2 Delegating Responsibility
The goals define the various courses of action necessary to effectively prevent, mitigate, prepare for, respond to, and recover from the impact of an incident. Many of these actions may be shared across the different hazards faced by a district, while others may be unique to a specific hazard or facility. Goals describe how a district will address the hazards. Once the planning team determines what actions will be taken, then the team must work to determine who will carry out the various activities.
Texas Education Code 37.108 states that a chain of command that designates the individual responsible for making final decisions during a disaster or emergency and identifies other individuals responsible for making those decisions if the designated person is unavailable shall be included in the EOP. This process can be included in the Direction and Control Annex in the Organization and Assignment of Responsibilities section.
Who is responsible?
Responsibility for achieving a goal rests with several persons throughout the district. The many departments and layers of personnel within a district are interrelated, with the decisions and actions of one department having either a direct or indirect effect on others. A change by district administration to the procurement policy will affect all departments who must acquire materials or services to support their needs. Understanding the interrelated nature of district operations is necessary to ensure that the planning team delegates responsibility appropriately.
Consider the evacuation of a single campus within the district during the school day. What school personnel have a role in ensuring that all personnel, students, and visitors are relocated? While the answer of the planning team will differ from district to district, most campuses will find some similarities:
District administration will establish general guidance for the evacuation of facilities, allowance of emergency procurement procedures in existing policies, and the notification of all necessary stakeholders.
District transportation will establish standard operating procedures on the reallocation of personnel and vehicles to ensure that all persons are relocated in a timely and orderly manner while keeping accountability of all persons during transit.
District finance will ensure that emergency procurements for services are both allowable and conducted in a timely manner to support on-site operations.
The campus principal will oversee all on-site operations while ensuring the safety of all personnel, students, and visitors.
Each teacher will ensure that all students and visitors exit the building in a safe and timely manner and will maintain accountability of all students throughout the evacuation process.
This is a simplistic look at a much more complex operation. A closer examination by the planning team should identify additional personnel with responsibilities that support the evacuation function. The planning team should consider determining and delegating responsibility based on what must occur before, during, and after the impact of a hazard. By looking at who is doing what at each point in time, a comprehensive set of responsibilities can be identified for each key position within the district.
What is the Incident Command System (ICS)?
ICS is a standardized, on-scene, all-hazard, incident management approach based on best practices. Established as part of the National Incident Management System (NIMS), ICS provides a nationwide template enabling local, state, federal and tribal governments and private-sector and non-governmental organizations to work together effectively and efficiently to prevent, mitigate, prepare for, respond to, and recover from incidents.
ICS is a modular structure designed for managing incidents of any size or magnitude. The concept of ICS is to manage incidents, whether they are simple or complex, as efficiently and effectively as possible. ICS supports emergency operations by:
Clarifying chain of command and supervision responsibilities to improve accountability.
Providing an orderly, systematic planning process.
Implementing a common, flexible, predefined management structure.
Fostering cooperation between diverse disciplines and agencies.
Utilizing the Incident Command System
Emergencies require that certain tasks or actions need to be performed. A challenge for districts is to transition rapidly from daily operations to emergency operations. Texas Education Code 37.108, states that a chain of command that designates the individual responsible for making final decisions during a disaster or emergency and identifies other individuals responsible for making those decisions if the designated person is unavailable shall be included in the EOP. ICS is scalable and usable during small incidents or large incidents. Utilizing ICS is a good way to accomplish this requirement.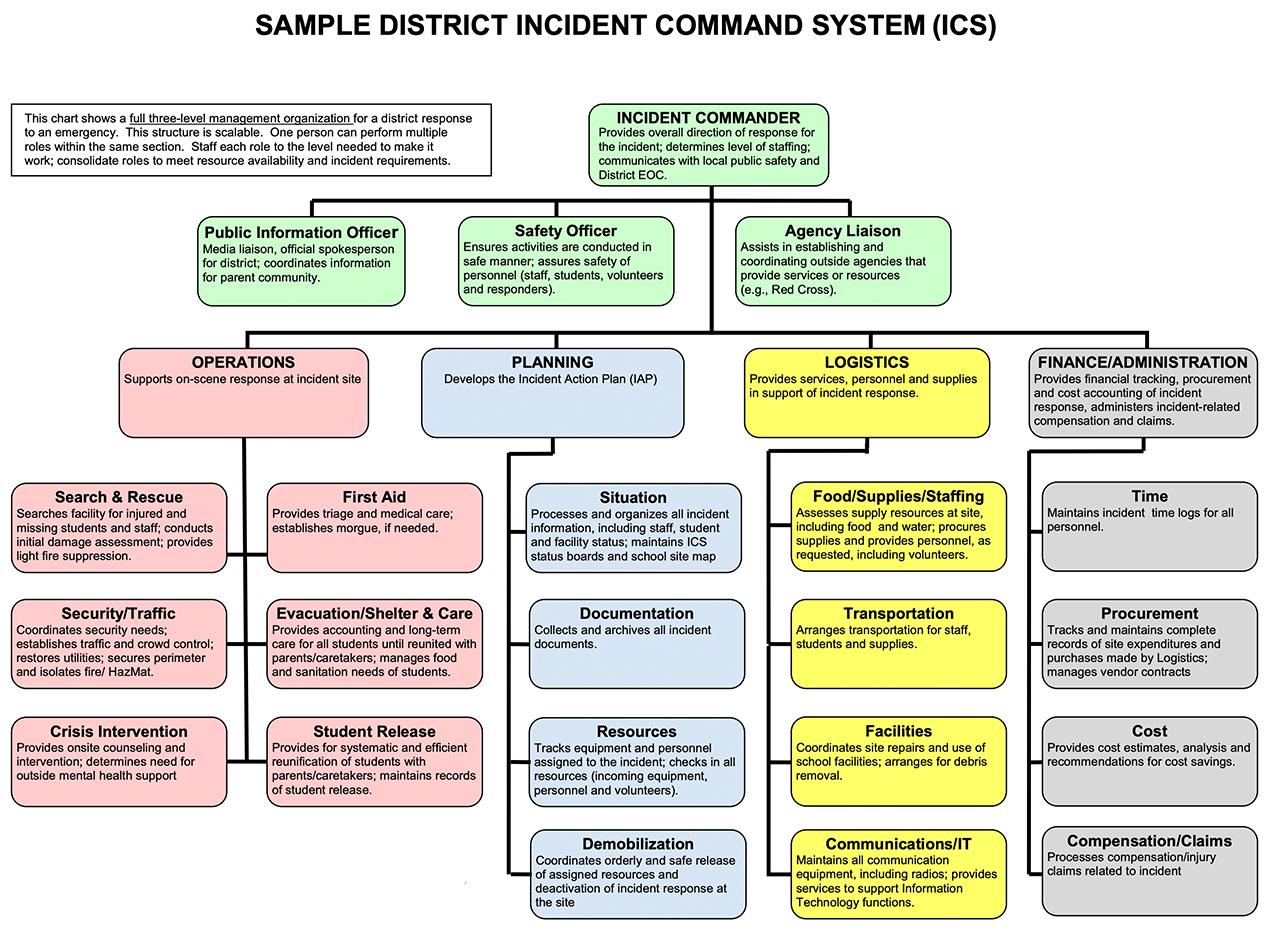 (Click image above to view as pdf.)
District personnel, including substitute teachers, should be trained in ICS and know their roles and responsibilities in the event of an emergency. The ICS structure mirrors many of the organizational structures that already exist including:
Grade-level teams.
Subject-area departments.
Campus administrative teams.
Support service groups.
Note: Experienced emergency planners often discover that the highest ranking official or administrator is not always the best fit for the Incident Commander role. Those willing to take on the Incident Commander role should ensure their full understanding of its duties and responsibilities and show due diligence by seeking quality training to build confidence for execution during an incident or emergency.
Shifting from Day-to-Day Operations to Emergency Response Operations
Educational professionals are well versed in shifting from one design structure to another when the change involves curriculum or management changes. Common educational hierarchy and Incident Command System can exist – just not simultaneously. Communication and tasking of assignments will differ between the two. When districts interact with outside response agencies during a moderate to large scale incident, the daily educational hierarchy needs to switch to ICS in order to yield the best outcome.
Using the Incident Command System allows the district to place the most qualified person, regardless of position in the educational hierarchy, into each position. Since ICS is designed to improve incident-based communication and coordination, information can flow freely throughout the organization, allowing the district to maintain a "common operating picture."
Additional Training

Persons assigned to command staff roles should attend ICS-300 (Intermediate ICS for Expanding Incidents) and ISC 400 (Advanced ICS Command and General Staff-Complex Incidents). These courses are available locally and only in a classroom setting. Districts can find this training on the Texas Division of Emergency Management (TDEM) online training website below:
www.preparingtexas.org.