High-Quality Multi-Hazard Emergency Operations Plan (EOP) Toolkit
3.3 Resource Management
Students, staff, parents, and the community have expectations of the district, not only to keep people safe, but also to be a good neighbor and community partner. While the district's primary educational missions and responsibilities remain a priority, district officials must ensure that the decisions they make and agreements they create do not compromise the safety and well-being of the district, its students, staff, and resources.
Districts are considered local governmental entities and are expected to support requests for mutual aid. The Texas Education Agency (TEA), as part of the State Emergency Management Council, issued recommendations that districts are required by state law to respond to requests for resources during a declared disaster.
Districts may need and provide assistance during an emergency. Districts should enter into memoranda of understandings or mutual aid agreements with agencies that can support the safety and security of the district. Mutual Aid Agreements are legal documents, authorized by district officials with other agencies. Memoranda of Understanding and other agreements can be formal or informal depending on the relationship between the district and the agency. This type of agreement defines the responsibilities of each party, provides the scope and authority of the agreement, clarifies the terms and timelines of the agreement, and outlines compliance issues. The concept of a mutual aid agreement is that a future exchange of comparable services will be reciprocated when requested.
It is important for the district to develop strong partnerships through the process of identifying key partners and formalizing agreements. This ensures the ability of partners to work together effectively and to manage expectations and resources.
Supplementing District Emergency Operations with Contracts and Agreements
A district should adopt and implement policies, plans, or procedures for resource requests and management before, during, and after an incident. It is pertinent to note that all agreements and contracts must be entered into by authorized officials and should be in writing. Emergency conditions do not negate the responsibility of district officials and contractors to follow established procedures. Existing district contracts, as well as those instituted under emergency conditions, may include provisions for equipment, supplies, specialized services, and personnel.
For more information on supplementing district emergency operations with contracts and agreements, refer to the video below:
For more information about the importance of formal and informal agreements and how to establish these agreements to support your district's emergency operations, the TxSSC has created a separate toolkit linked below. (Note: The link below will open in a new tab.)
Addressing Resource Management Issues within the Planning Team
Districts share resources with other districts and community partners. Local and state officials supplement their emergency operations by utilizing school resources. This is evident during large-scale disasters when school facilities are used to support mass care, feeding, and sheltering operations. For these reasons it is important to include subject matter experts on the planning team. These individuals might include:
Human resource management (for addressing regular pay/overtime issues and itemized benefits calculations).
Operations and energy management (to provide insight into existing capabilities and data on costs for additional utilities and related services).
Purchasing, warehouse, and transportation personnel (for information about non-district use of equipment and supplies including but not limited to gasoline, mechanical and structural repair, and campus educational consumables).
Food service personnel (for information on food provision during extended sheltering operations).
Senior officials from internal and external resource partners (for discussion of emergency protective measures including provision of temporary facilities for schools and other essential community services).
District facility and risk managers (for estimates of loss and/or damage including extended costs for recovery from devastating damage to district buildings and properties).
District finance officials (for information about administrative costs and controls necessary to manage the expenditure of funds, provision of resources, and justification of emergency expenditures).
Educators (for ensuring that graduation requirements and minimum instructional standards continue to be met or exceeded if classes are cancelled due to the impact of an emergency).
Requesting Resources During Emergencies and Disasters
During the initial stages of an emergency, the district's need for resources may be greater than the availability of resources. As time progresses, the district becomes able to meet its need for resources or may even become overwhelmed with the number of resources available to assist. Districts can utilize their EOP and supporting contracts and agreements to assist in the management of resources during emergencies. This information can be included in the Resource Management Annex.
When existing resources and those available through mutual aid agreements and memoranda of understanding have been exhausted, and there are remaining resource needs, the district must reach out to the city or county office of emergency management to request assistance. Often, the city or county may be affected by the incident and be unable to provide immediate assistance in the form of resources. When this occurs, the city or county will request assistance from the Texas Division of Emergency Management's Disaster District Committee (DDC).
It is imperative that districts communicate with their city and county emergency management offices when requesting assistance and resources. Failure to do so can result in duplication of efforts and delays in the arrival of much needed resources to support district operations.
Federal directives, HSPD-5 and PPD-8 require the use of the Incident Command System (ICS) when managing emergencies and disasters. ICS requires that resource management activities be aligned with the principles and practices defined by the National Incident Management System (NIMS). Use an ICS Form 213 Resource Request when requesting resources from the city or county. ICS and NIMS will be discussed in Section 4.2.
The standard form used for requesting resources is the ICS Form 213-RR. However, most cities and counties recognize and use the ICS-213 General Message Form for requesting resources. Both forms are provided below. The planning team should discuss which form should be used with local emergency management officials. Once a determination is made, the appropriate form may be included as a job-aid within the district's EOP.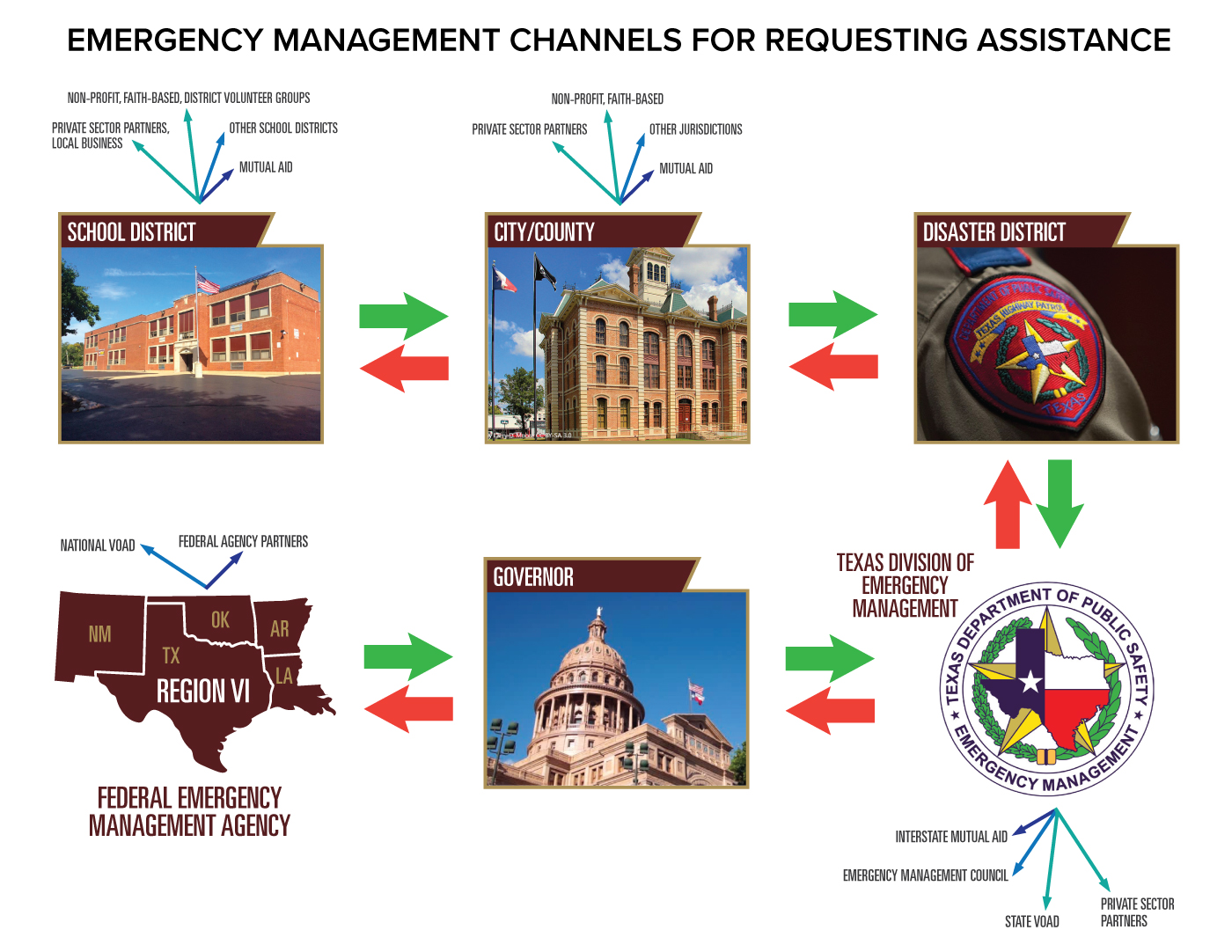 (Click image above to expand view.)
Addressing Cost Recovery and Record Keeping Within the EOP
It is important that the district track all costs associated with emergency preparedness, response, and recovery including costs associated with executing agreements and contracts. This will affect insurance claims, reimbursement, or restitution pursuant to an emergency declaration or existing agreement.
Financial tracking should include, but not be limited to:
Personnel (regular/overtime) with benefit calculations itemized.
Costs for additional utilities and related services.
Equipment.
Supplies.
Shelter provisions, including food.
Emergency protective measures implemented in the interest of public safety, loss, mitigation, or infrastructure protections.
Loss and/or damage.
Administrative costs.
Make every effort to preserve records and documentation in accordance with district record retention and Freedom of Information standards. This should include copies of all agreements, contracts, and plan references. Other reports and documentation may be required for major events and will include items associated with local, state, and federal reimbursement requirements and insurance company documents. Any documents related to costs, that establish responsibility or seek outside reimbursement should be preserved according to district policy.
An emergency of any kind requires a base level of documentation, including:
Incident reports.
Situation reports.
Logs.
Safety accountability.
Damage assessment.
Assistance requests.
Resource requests.
Resources use.
Expenditures.
Timekeeping and related notes.
Any other district paperwork and forms generated as part of the event.