Digital Threat Assessment Toolkit

The Basics
3.1 The Basics of Snapchat
The foundation of Snapchat is the disappearing photo or video, called a "snap" that vanishes into thin air after it has been opened. Users can set a viewing time of up to 10 seconds or an infinite amount of time after which, once viewed, it will be deleted from the recipient's mobile device and, the company claims, from its servers. In 2017 Snapchat introduced an infinity timer which means the photo won't disappear until the recipient changes screens. Once a snap, even an infinite one, is closed, it is gone forever.
Snapchat allows users to take photos, record short videos, add text and create drawings and then send them to a personalized and typically private list of friends. However, nothing stops the recipient from taking a screenshot or using a second device to take a picture of the image or video. If a screenshot is taken using the recipient device, it will notify the sender that a screenshot was taken.
Despite news headlines that suggest that Snapchat is just a "sexting" app or one that is only used to send nude photos, this represents a very small usage of the app. The vast majority of the snaps sent daily between youth are innocuous and typical of everyday conversation and humor.
This image shows how Snapchat looks on a mobile device before photo is taken.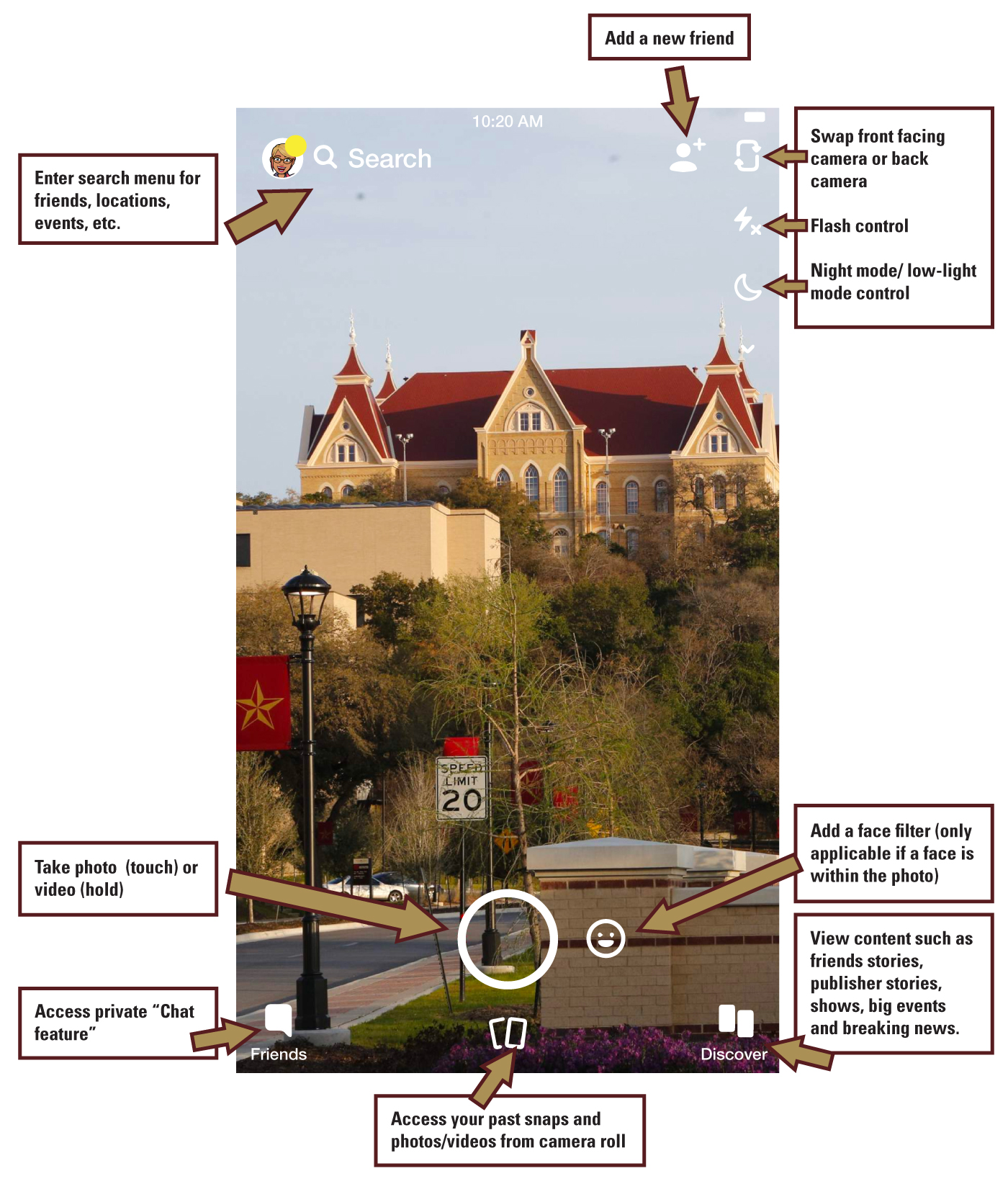 This image shows how Snapchat looks on a mobile device after photo is taken.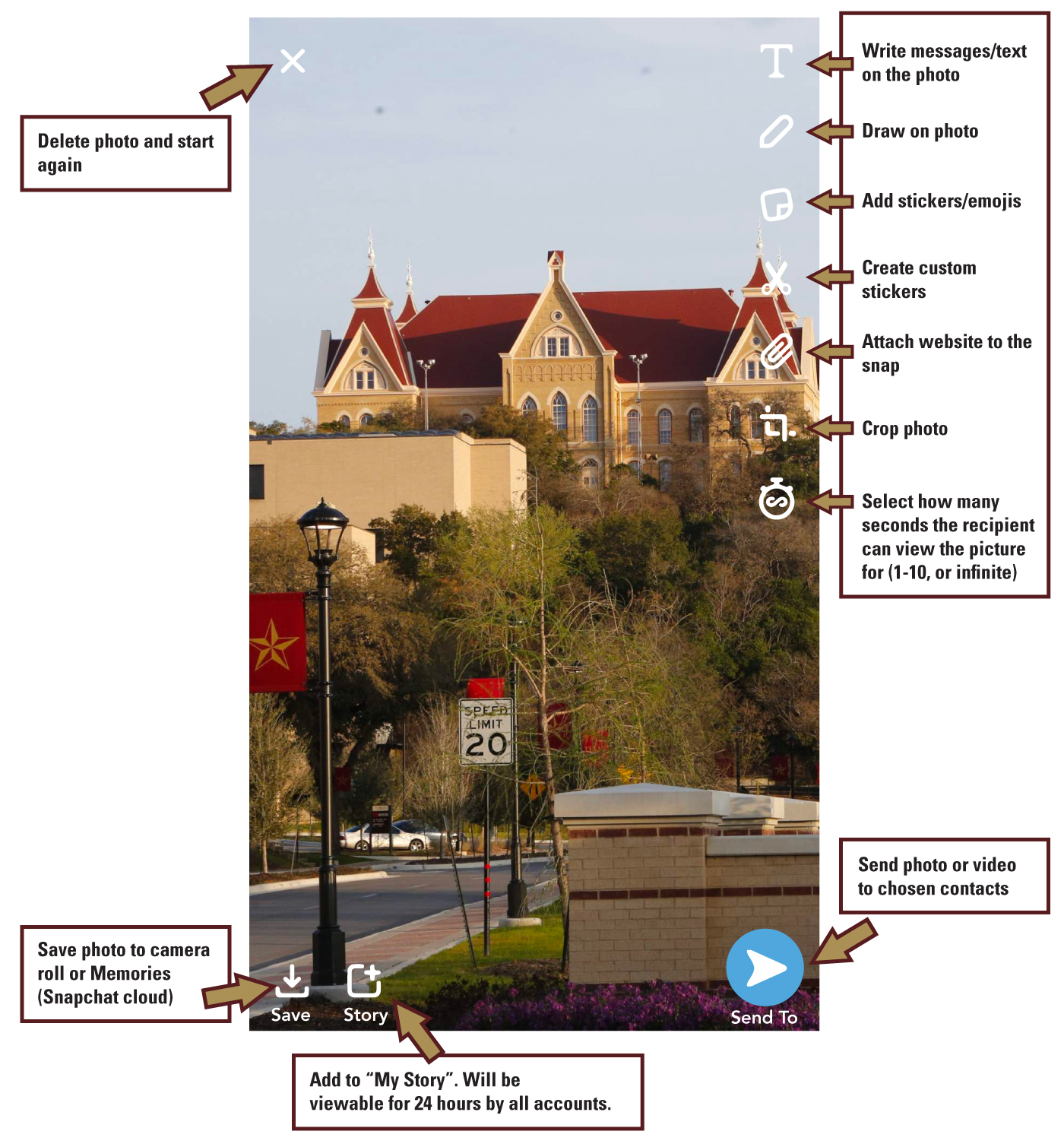 Snapchat Lingo
Snaps
A user takes a photo or video using their digital device/smartphone in real-time. The user can select a period of time between 1-10 seconds or an indefinite amount of time for the receiver to view the photo/video. A user can elect to have the photo/video they have just taken to be saved into their photo gallery or sent via Snapchat without being saved on their device.
Stories
A user can add the photo/video to their "Story". Depending on the user's privacy settings, the photo and videos added to a story can be viewed by all Snapchat users or just those on their friends list for up to 24 hours. Snapchat stories allows users to watch the story for as many times as they like within a 24-hour period.
Chat
A user can type a text message within the Snapchat app to their friends using this feature. Once both parties have viewed the message, the message will vanish. Photos from the camera roll or photo gallery of the user can be uploaded and sent within chat. Group chats often exist between multiple friends.
Streak
Seen within the chat log screen, a person's "Snapchat Streak" is the number of consecutive days that the account owner and a friend have sent at least one snap per day to each other. If they do not snap each other in 24 hours' time, they lose their streak with their friend. Maintaining streaks is very important to young people.
Snapchat Inbox/Outbox
An important part of Snapchat is the inbox/outbox screen which displays interactions with friends. These are real screenshots from a 10th grade student: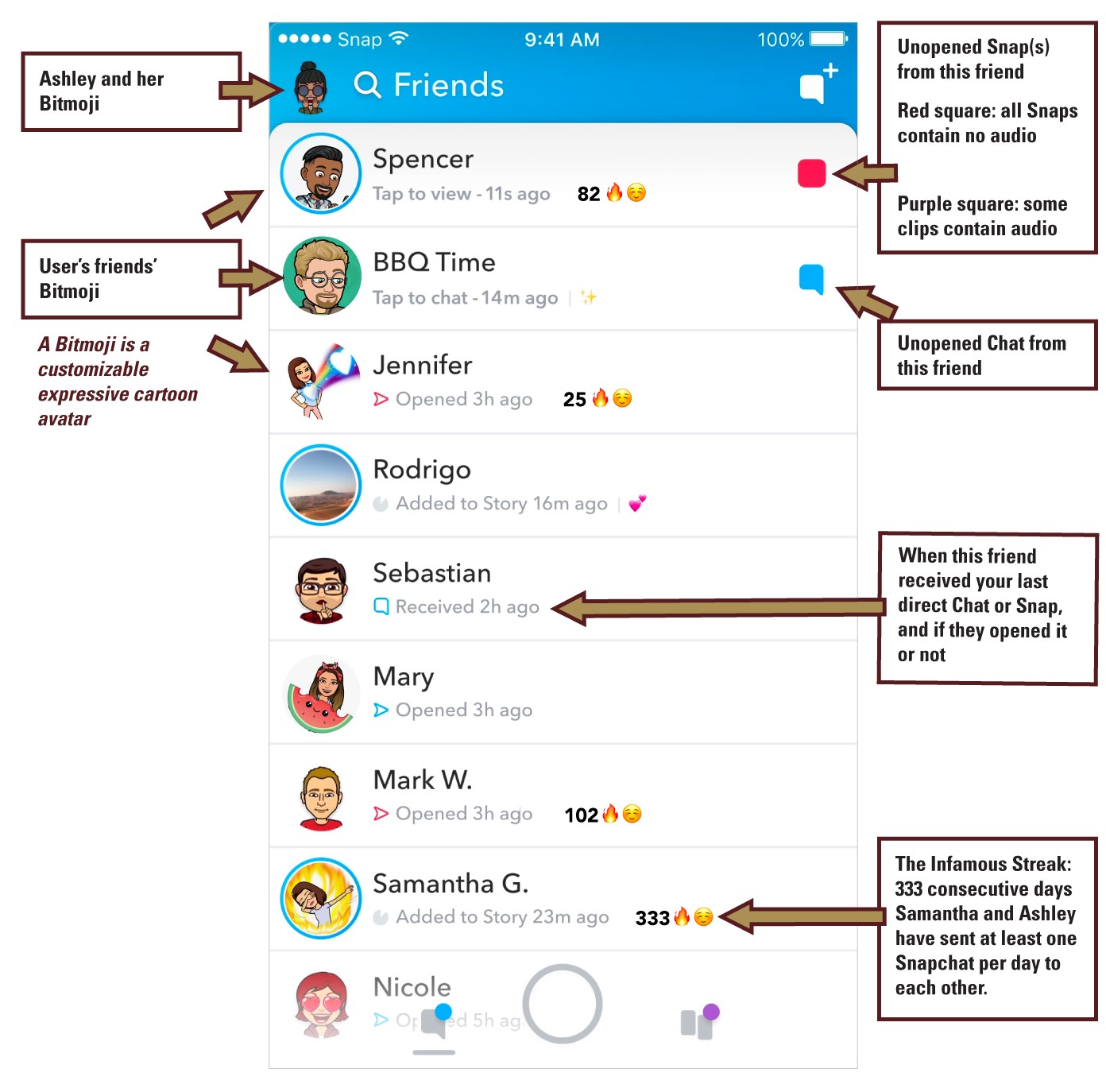 You can learn more about the icons and emojis used in Snapchat in the documents below:
Snap Map
Snap Map is one of the newest Snapchat features. Introduced in June 2017, it was billed as a tool to be able to meet up with "friends" in real life, raising significant privacy concerns. Snap Map created the ability for users to view snaps of sporting events, celebrations, and breaking news, all based on location. But perhaps most concerningly, it allows the user to view where their friends are, right now, on a map. Snap Map uses mobile phone technology to place where the user and the user's friends (anyone who follows them) are on a map, including exactly (even an area in a house) where the user is and what they are doing (e.g., driving, sleeping, etc.). This is done in real time, and locations are updated every time Snapchat is opened.
There are a few location sharing options. Users can make their location invisible by enabling Ghost Mode. Alternatively, users may choose specific friends to share their location with by choosing Select Friends. In this mode users must choose each other for their location to be visible to the other. The last mode users may choose is My Friends. This is where the user's location will be shared with all their Snapchat friends.
Snap Map can be useful in determining someone's location by identifying where their smartphone is. To do this, contact someone who is Snapchat friends with the person you are searching for, and have the friend open Snap Map to locate the person.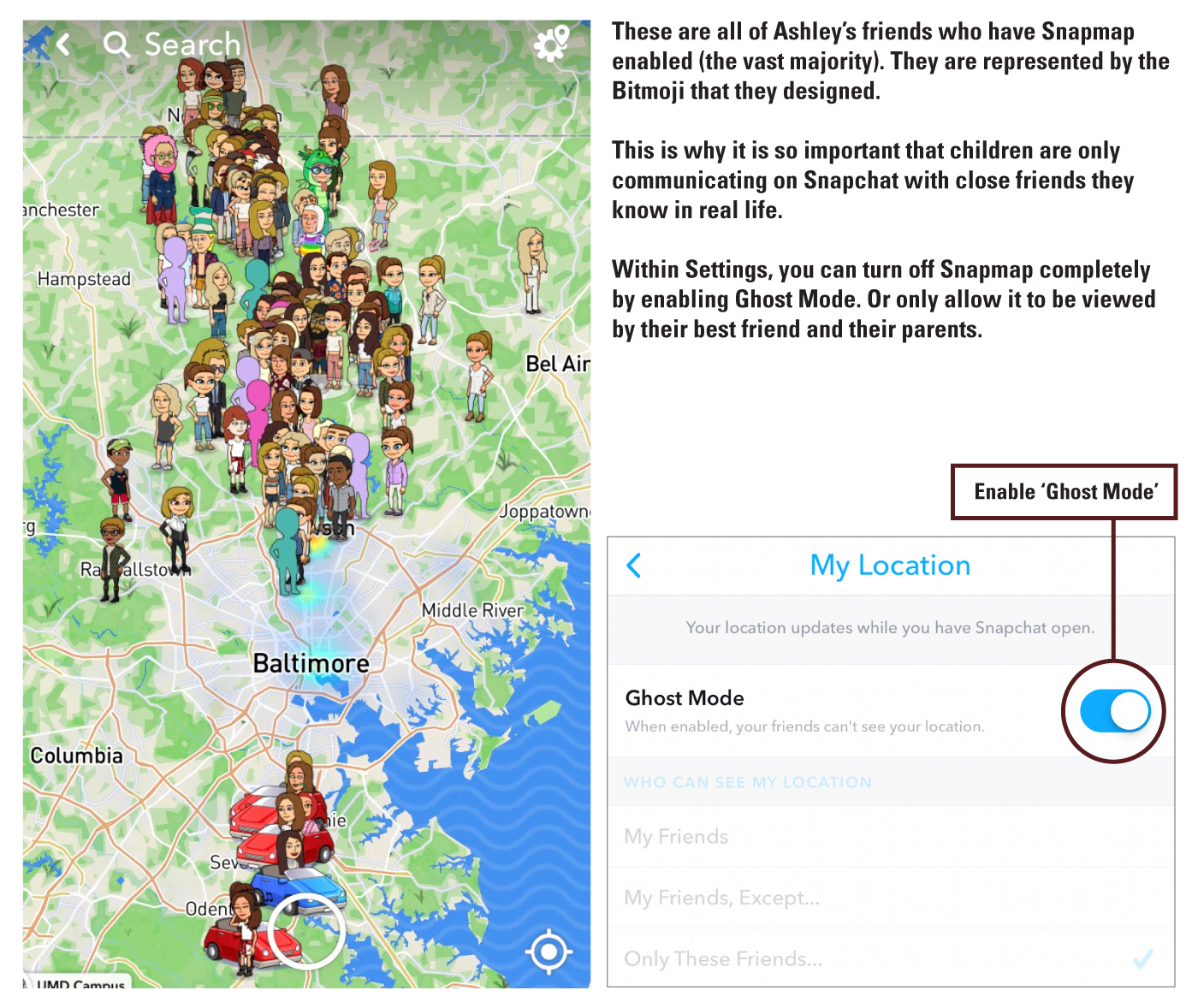 </>