Digital Threat Assessment Toolkit

The Basics
2.2 Searching Instagram without Logging into an Account
If you plan to search for "open source" (publicly available) Instagram content related to your school or students, it is best practice to do so without being logged into an Instagram account.
When you go to the Instagram website (https://www.instagram.com) from your internet browser on your computer, you will be prompted to Log In or Sign Up for Instagram. If you are already logged into an Instagram account, be sure to log out.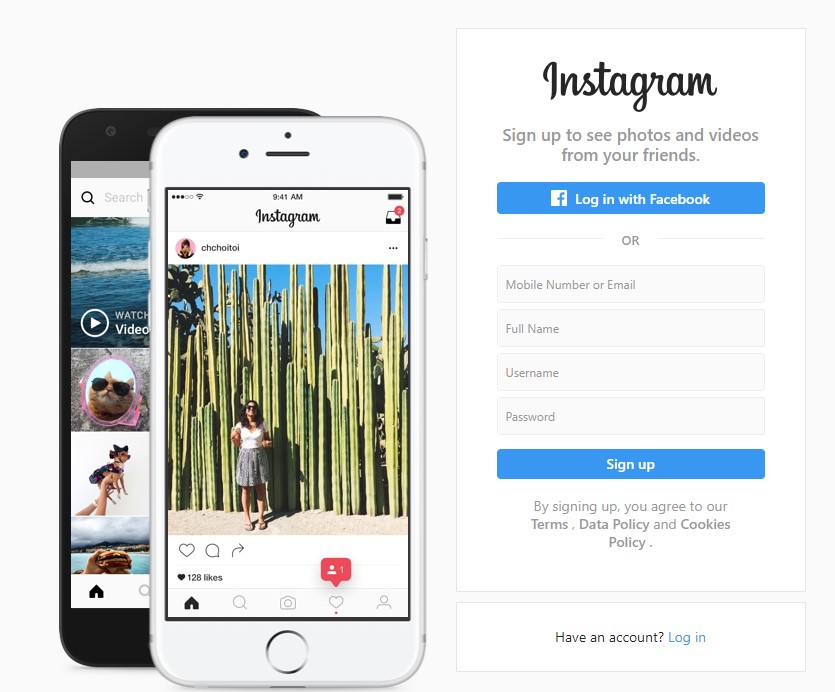 Do NOT log in or sign up. Instead, you can go to any user's profile by typing in the user name after the Instagram web address. See the U.S. Surgeon General IG profile below as an example. From there, you can access the search bar just as you would had you been logged in.
To start a search, simply enter the information you are looking for in the search bar. You can search by user name, geotagged location, or hashtag (#). Please note that the images below reflect searching from a computer. If you search using your phone, the interface will look slightly different.
Searching by Name
Young people do not typically use their real names as their usernames. Some people use their full name as their username, @taylorswift for example. Other users might use completely different usernames than their real names. For example, John Smith may go by "jboyhere."
Here are some examples of accounts that might show up if you type "Jerome M." into the search bar: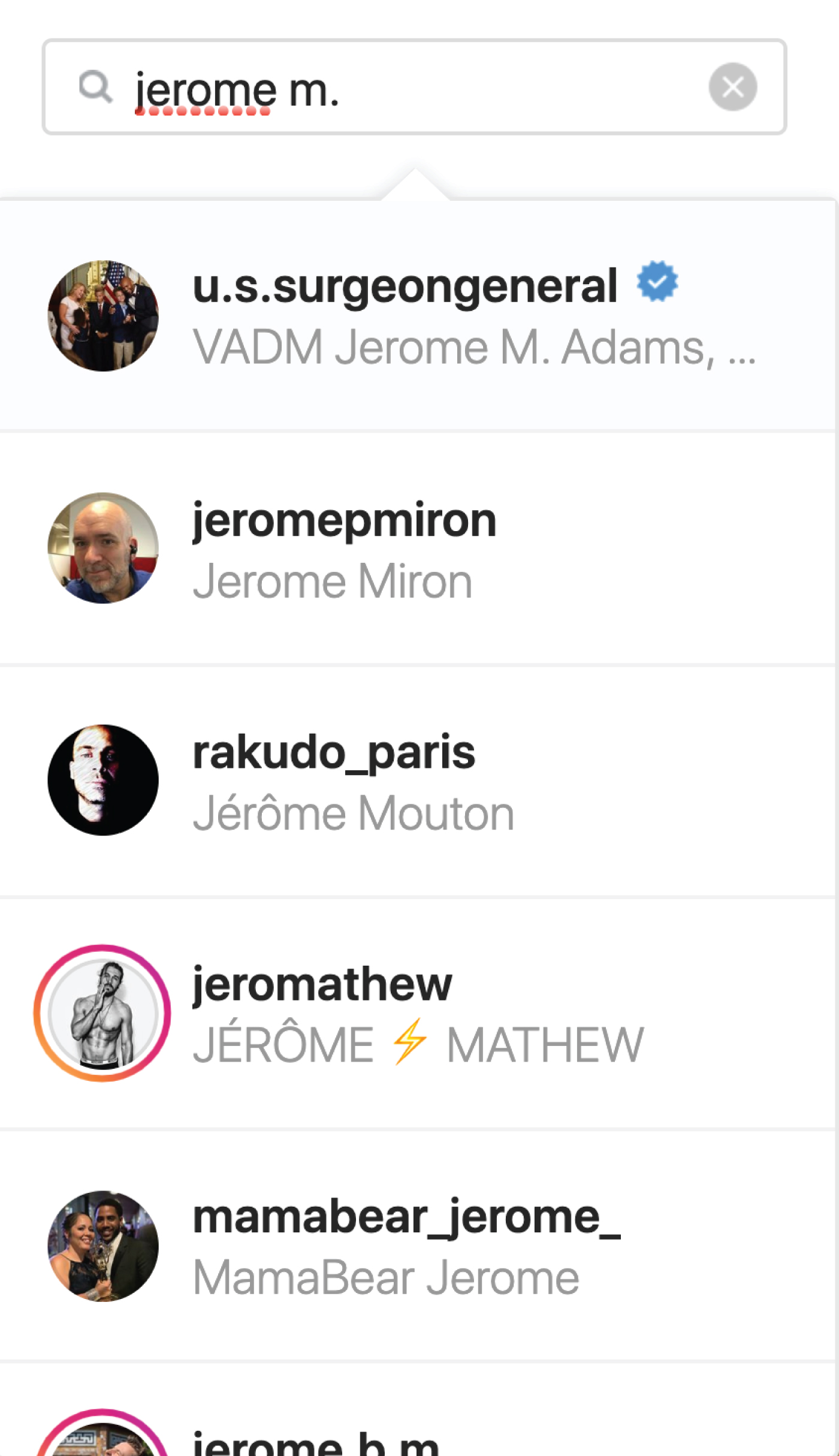 Searching by Location
For public places, if the specific address is unknown, type in the name of the location (e.g., Texas State) and the address may autopopulate. If the address autopopulates, select the correct address from the drop-down menu in the search bar:
This example shows Texas State University's location at 601 University Drive, San Marcos, Texas. Once a location is selected, Instagram shows photos and videos that have been geotagged to that location. A geotag is when the user tags their location to a photo or video. All photos or videos tagged with that location will show up in a search.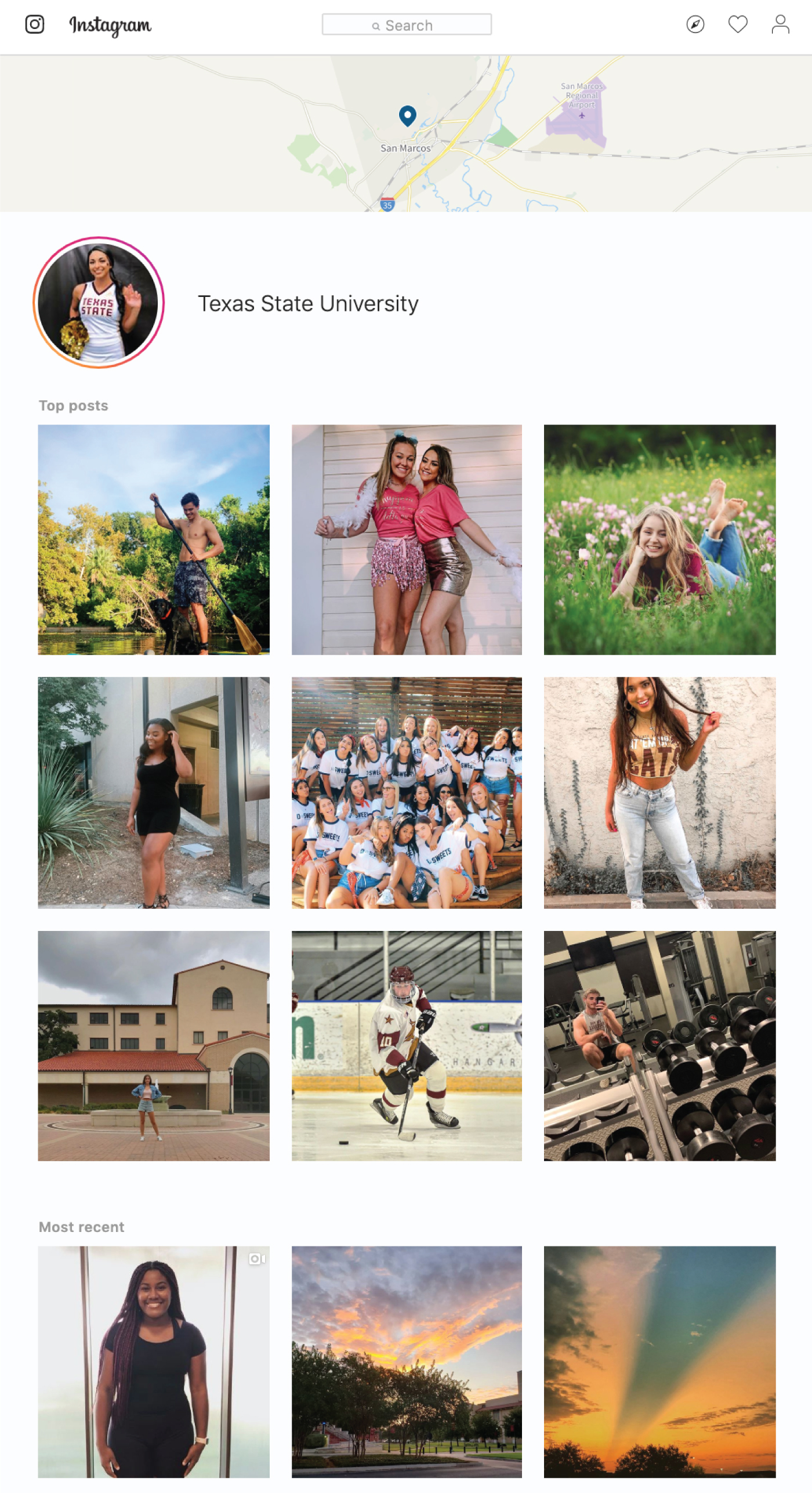 Searching by Hashtag
The hashtag is a computer science operator term that is used on most social networking platforms and is visually represented by the character # (the pound/number sign).
Hashtags are a way on social media – especially Instagram and Twitter – to group like-minded content together. Any time a word is preceded with a #, the picture or phrase to which it was hashtagged is placed into a category that other users can now search. Using hashtags is a way to to gain more followers because it makes easier to others to find or contribute to a conversation. Pay attention to unique hashtags, as they can often lead you to online youth subcultures that you would not have been able to find via traditional keyword searches.
Tip: The website www.tagdef.com is helpful with discovering meanings of certain hashtags.
Hashtags can be useful pieces of data when searching for a specific type of content. When typing #txst into the Instagram search bar, the images below appear: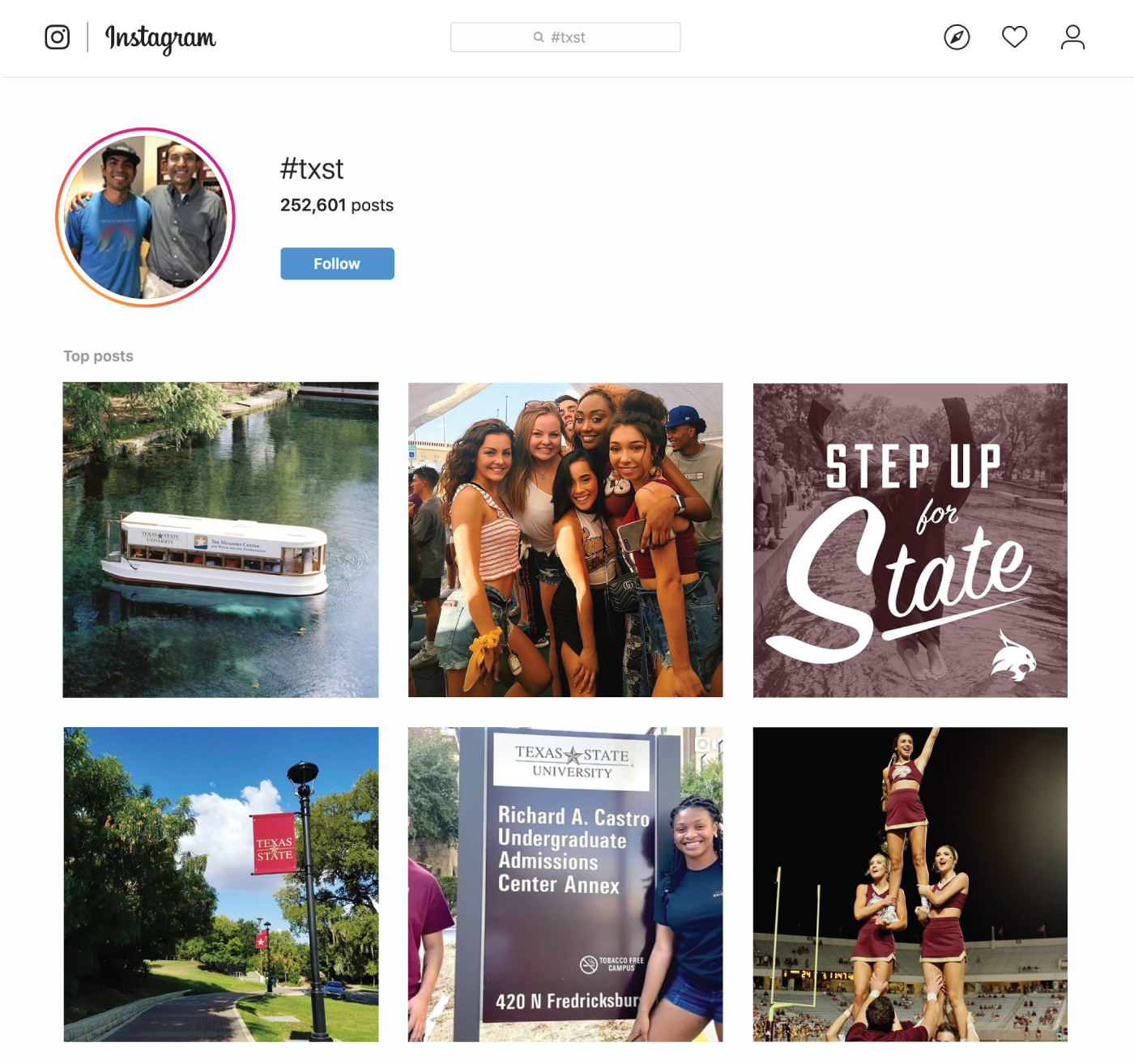 If a picture of a foot is posted and captioned with "This is my #txst," it will show up in the hashtag search for #txst despite having nothing to do with Texas State University. Users may post pictures and add hashtags, even if the hashtags don't relate to the photo.
Hashtags can also be used in a way to tag posts that may be indicative of worrisome behaviors.
Look at the hashtags used in the post below: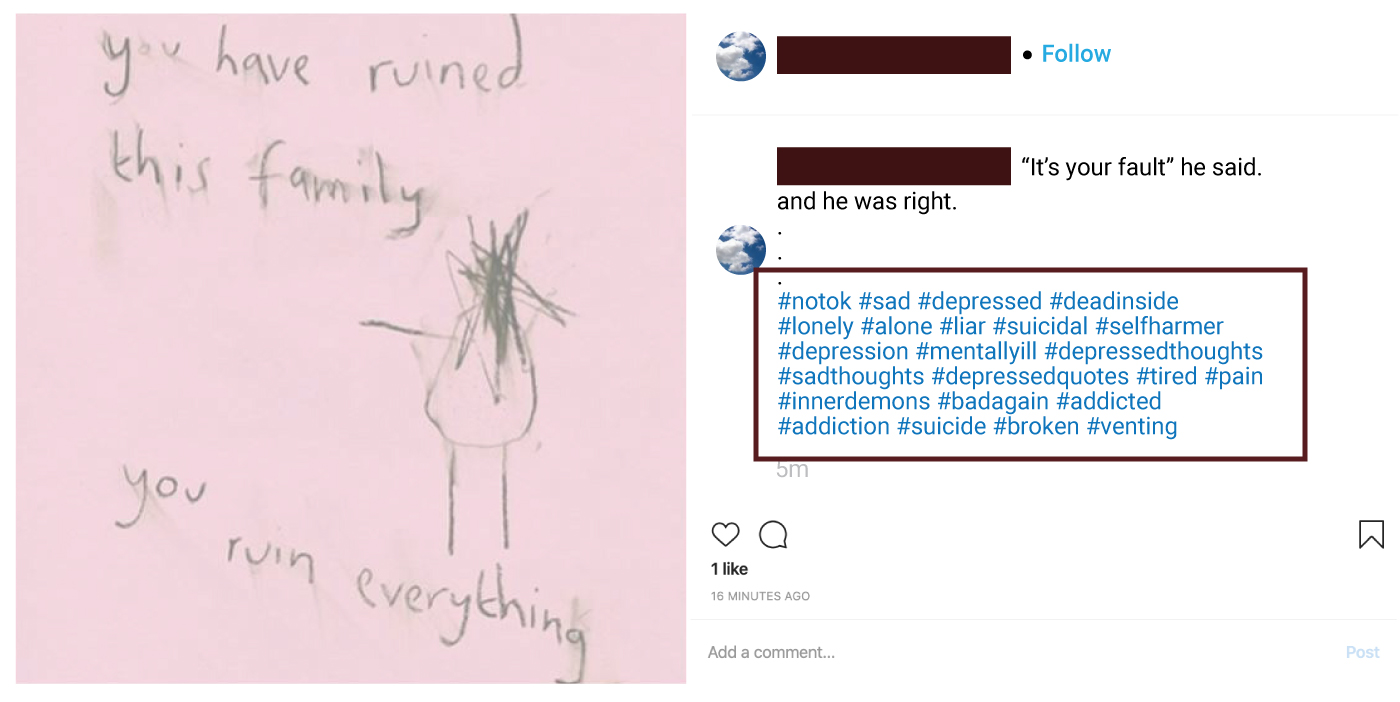 With hashtags, details are important. Pay attention to small variations of hashtags on Instagram or Twitter that are associated with youth mental health. Some hashtags may have meanings below the surface. Below are examples: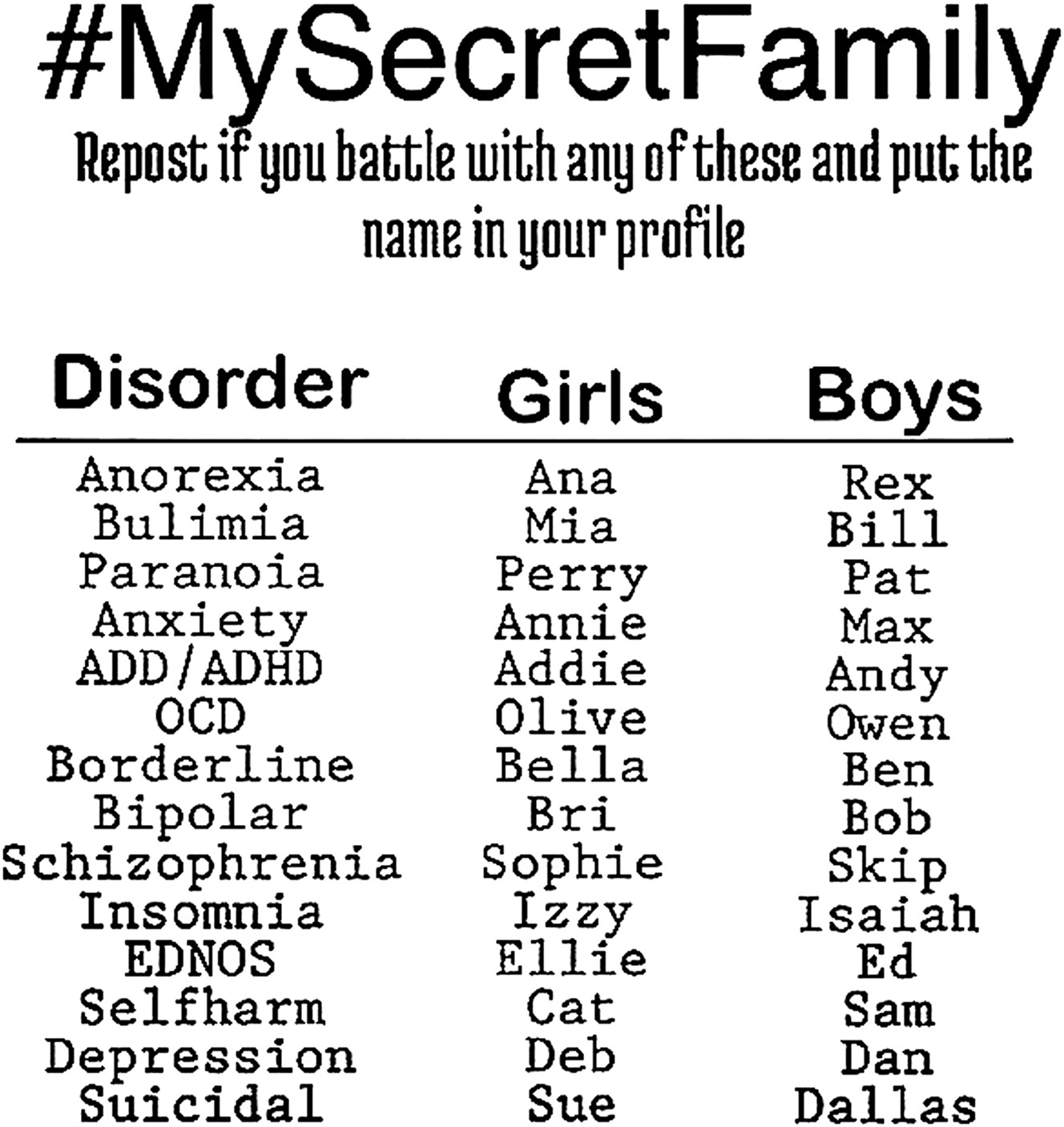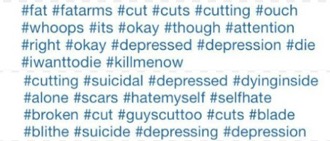 Tips:
-

Common language definitions of phrases and slang words can sometimes be found using the site www.urbandictionary.com. Please note that this site does contain offensive words and profanity.

-

The website www.instadp.com is a way to view Instagram profile pictures full size and in high quality, as well providing the ability to zoom in. It is also the only way to download Instagram stories.