Texas Youth Preparedness Camp
July 9-13, 2023
The Texas School Safety Center's Texas Youth Preparedness Camp was developed to empower youth to help create a culture of preparedness in their schools and communities. To this end, TxSSC has designed the Youth Preparedness Camp to be the most engaging, fun, and effective experience in empowering youth to not only educate and inform their peers and community members about the importance of being prepared, but to serve as a key leader during an emergency.
School and community-based youth groups in 9th-12th grade are eligible to attend the camp. Groups who do attend receive emergency preparedness training, opportunities to advance their leadership and advocacy skills, and an opportunity to plan a preparedness project for their school or community.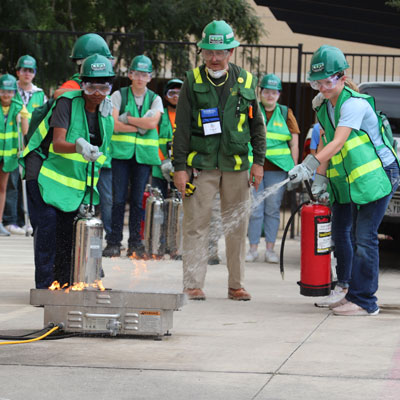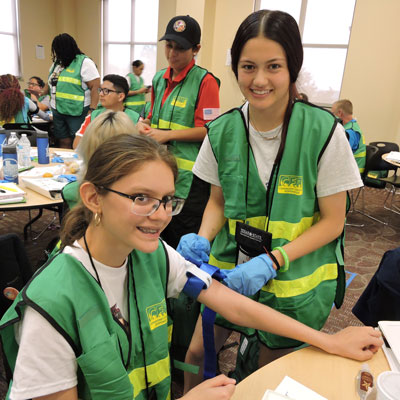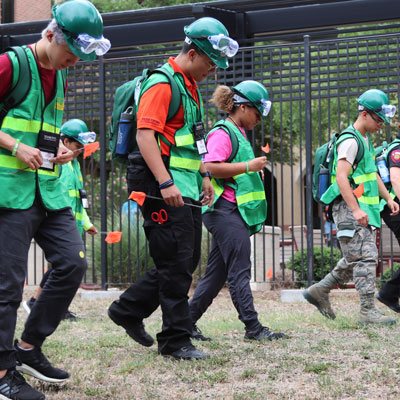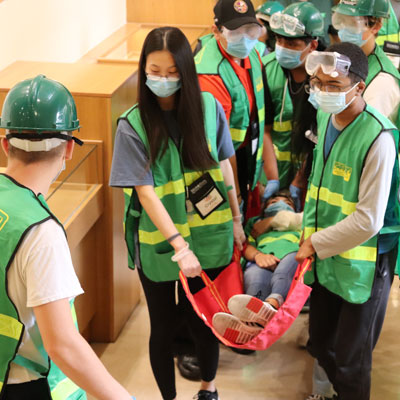 About Camp
The Youth Preparedness Camp is a free event that includes camp registration, parking, all meals, lodging, CERT training materials and supplies, CERT gear, and event materials. The only cost to groups will be to secure their own transportation before, during, and after camp.
Groups are selected to attend camp based on an application process, which requires all youth and adult group members to complete an application together. Adult group members who want to attend camp should be involved with their youth group as all adults are encouraged to participate in training exercises and activities during camp.
Youth groups who attend will receive the following:
Teambuilding and networking with like-minded youth.
Youth leadership skills development to help create a culture of preparedness.
FEMA Teen Community Emergency Response Team (CERT) Basic training and certification.
Dedicated time to plan a preparedness project for their school or community.
About Teen CERT Training:
Teen CERT curriculum is FEMA's national CERT curriculum but with more hands-on training. The curriculum educates individuals about disaster preparedness for hazards that may impact their area and trains them in basic disaster response skills, such as fire safety, light search and rescue, team organization, and disaster medical operations.
After receiving certification, youth participants can assist individuals in their school and community following an event when professional responders are not immediately available to help.
After certification, participants could do the following during an emergency:
Organize volunteers
Assist in evacuations
Help reduce survivor stress
Provide damage assessment information
Participate in disaster drills and exercises
Present fire safety education
Assist in preparedness outreach
Help address safety issues at school
You can learn more about FEMAs Teen CERT here.
Camp Details
Agenda Overview
Day 1
2-5pm
Registration & Check-In
6:30-10pm
Opening Speaker, Activities & Games
Day 2
9am-12pm
Morning Trainings & Activities
1-5pm
Afternoon Trainings & Activities
6:30-10pm
Evening Trainings, Activities & Games
Day 3
9am-12pm
Morning Trainings & Activities
1-5pm
Afternoon Trainings & Activities
6:30-10pm
Evening Trainings, Activities & Games
Day 4
9am-12pm
Morning Trainings & Activities
1-5pm
Afternoon Trainings & Activities
6:30-10pm
Evening Trainings, Activities & Games
Day 5
9-11am
Closing Speaker & Graduation
Agenda Overview
Day 1
2-5pm
Registration & Check-In
6:30-10pm
Opening Speaker, Activities & Games
Day 2
9am-12pm
Morning Trainings & Activities
1-5pm
Afternoon Trainings & Activities
6:30-10pm
Evening Trainings, Activities & Games
Day 3
9am-12pm
Morning Trainings & Activities
1-5pm
Afternoon Trainings & Activities
6:30-10pm
Evening Trainings, Activities & Games
Day 4
9am-12pm
Morning Trainings & Activities
1-5pm
Afternoon Trainings & Activities
6:30-10pm
Evening Trainings, Activities & Games
Day 5
9-11am
Closing Speaker & Graduation
Dates & Location
Sunday, July 9th - Thursday, July 13th
Texas State University
Falls/Sayers Hall
631 Moore Street
San Marcos, TX 78666